www.cashpass.com – CashPass Visa Prepaid Debit Card Login Guide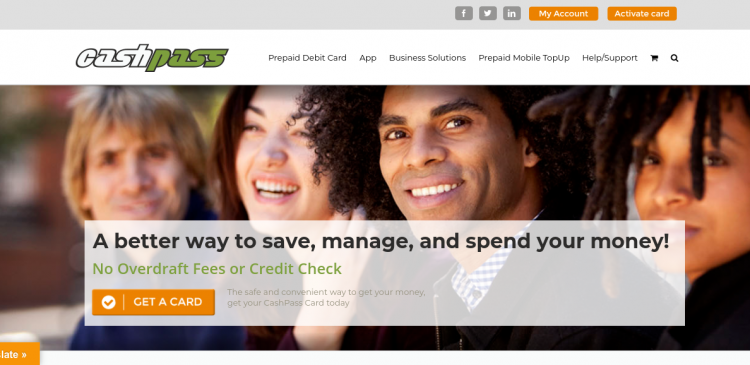 CashPass Visa Prepaid Debit Card
CashPass Visa Prepaid Debit Card is a safe and convenient way to save, manage and spend the money without any overdraft fees or credit check. It provides consumers with a better opportunity to take charge of their finance and manage expenses.
There are several ways to load funds to the CashPass card account and the card is accepted anywhere Debit Visa is accepted as credit, debit or ATMs in the world. In addition, the cardmembers can manage all aspects of their CashPass Visa Prepaid Card online 24 hours a day, 7 days a week.
CashPass Visa Prepaid Card is issued by Metropolitan Commercial Bank and managed by CashPass. It is a signature and PIN-accessed card that cannot be overdrawn or abused. Without the PIN the users cannot use their card for ATM and debit transaction. And all the CashPasscard accounts are individual with FDIC insurance up to $250,000 per card account.
CashPass Visa Prepaid Card Features & Benefits
CashPass Visa Prepaid Debit Card is an alternative bank solution and safer than carrying cash. It comes with the following features.
Add Money
Enroll in Direct Deposit for all or a percentage of your paycheck and get paid up to 2 days faster

Get your Tax Refund and Government Benefit fast and easy with direct deposit.

Reload the card with cash at CashPass authorized distributors

ACH via a traditional bank account

Move, share and send money card to card for a safe and easy allowance compared to cash

Visit any of the thousands of CashPass load locations at most major retailers like Walmart, Albertsons, 7-Eleven, Safeway, CVS, Moneygram and more
Companion Sub Cards
Create up to 5 companion cards for family budgets and allowance

Manage their spending for easy tracking, budgeting, and saving

Track all purchasing; review the transactions and send money from one account

Minimal one-time activation fee per card with or no Monthly Fee
Security & Protection
Fraud protection backed by Visa Zero Liability Protection

Set up alerts according to your schedule

Free email and text alert to get the card balance or transaction notification directly on your mobile phone or via email and on all purchases to give protection from the unauthorized transaction.

Immediate alerts for direct deposits and cash loads

Receive notification for the companion cards purchases and track spending

All the card accounts are FDIC insured after the cardholder information is verified
ATM Access & Bill Pay
Use the card at all Visa accepted ATMs across the nation

No waiting or standing in line; manage and pay the bills online

Set up payments and pay multiple bills at the same time

The payment history has been always at your fingertips
Rates & Fees
No Activation Fee

No Overdraft Fee

No Load Fees for Direct Deposit

No Signature Transaction Fee

Monthly Maintenance Fee: $0 for Premier % card; $6.95 for Premier Card

Retail Load Fee: $2 for Premier % card; 2%-$2 for Premier Card

PIN Transaction Fee: $2 Domestic and $3 International

Card to Card or Bank Account Transaction Fee: $2.50

ATM Withdrawl Fee: $2.50 Domestic and $3.50 International

ATM Balance Inquiry & Decline Fee: $0.50

Inactivity Fee: $3.95

Electronic Bill pay Fee: $1.00

Card Replacement Fee: $10
How to Apply for CashPass Visa Prepaid Card Online
CashPass offers two types of Visa Prepaid Card- Premier Flat Monthly Fee Card and Premier (%) Pay As You Go Card. To get a CashPass Visa Prepaid Card, you can visit CashPass official Website, www.cashpass.com. Pick the plan that works best for you and click on the "GET A CARD" button below the selected card. A new webpage will be open where you have to enter the following information to initiate the application process.
First Name

Last Name

Date of Birth

Social Security Number

Email Address

Street Address (No PO Box)

Apartment Number

City

State

Zipcode

Home phone number
Then tick the checkbox and click the "Submit" button for the identification process. If your identity will be verified successfully, expect your personalized card will be sent to you via mail in about 7-10 business days.
Besides online, you can also visit a CashPass distributor location and receive an instant card in the store to access the card funds immediately.
How to Activate CashPass Visa Prepaid Card & Register Online Account
Once you receive your new CashPass Visa Prepaid Card, you can activate the card as well as register for online access. For that, keep your CashPass card handy and follow the steps listed below.
Visit CashPass official Website, www.cashpass.com

Click on the "Activate Card" button located at the top right corner of the page.
After reaching the designated page, input the required information i.e. Card Number, Card Expiration Date, Security Code, Date of Birth, and Social Security Number in their respective fields.

Enter the code shown below the page and click on the "Submit" button.
Follow the on-screen instructions to register and activate your new card and set your PIN to start loading funds and use it instantly.
How to Set Up CashPass Visa Prepaid Card Online Account Access
You will be prompted to register your CashPass Card Online Account and choose your login credentials at the time of activation the new card. If you have not created your online CashPass Visa Prepaid Card account at that time, you must do it before you log in for the first time.
To set up your own CashPass Card Online Account User ID and Password, you can go to www.cashpass.com and click on the "My Account" button found at the top right-hand side of the page and submit the same info you enter at the time to activate the card like
Card Number

Card Expiration Date

Card Security Code

Cardholder's Date of Birth

And Social Security Number
Note that, the online session will be automatically ended after 15 minutes of inactivity for the security purpose. Make sure not to leave your computer for a long time during going through the procedure. However, once you complete the Online Account Access, you can do the following activities.
Check your card account balance

View and download current as well as past transaction details

Sign up for email alerts to receive notification about your card account

Contact the online customer service and much more
How to Login CashPass Visa Prepaid Card Online Account
To get all the benefits and other CashPass online access services, you can sign in to your CashPass Visa Prepaid Card Virtual Account anytime anywhere from any web browser. To log in,
Go to the CashPass Visa Prepaid Debit Card website, www.cashpass.com

 and click on the "My Account" button found at the top right of the page

Enter the Username and Password registered with their Online CashPass Card Account in their specific fields.

Click the "Login" button.
How to Reset CashPass Visa Prepaid Card Online Account Login Password
The uses who have forgotten their CashPass Visa Prepaid Card Online Account Password can reset it with the login tool provided on the login page.
Click on the "Forgot your Password?" link below the login button.

enter your Username and Card Number in the spaces specifically for them

Type the text or number shown in the picture to protect the security.

Click the "Continue" button to generate a new password for your CashPass Visa Prepaid Card Online Account.
CashPass App
Download the "CashPass" App from the App Store or Google Play Store on your Android or Apple device and enjoy a lot more benefits of your CashPass Visa Prepaid Card such as
Got exclusive deals in your area as well as local offers and discounts

Load money by cash check via Check Capture (Most check types are accepted)

Transfer funds to other card account and send money to friends and family

Track the card activity, check the balance, manage the funds, pay the bills, etc. while on the go

Access the CashPass Visa Prepaid Card Online Account Services along with Mobile Banking

Find ATMs, load locations and CashPass retail locations

Request customer service, reset password, and more
About CashPass
CashPass is a financial institution providing financial services and security to the people with no checking accounts or credit card. The company was founded in Burnsville, MN in 2003 and its primary focus to cater to the unbanked and underbanked without excessive banking fees and restrictive practices that a traditional institution imposes. Metropolitan Commercial Bank is the issuer of CashPass cards but the individual cardholders do not need to have a personal bank account with the bank.
Also Read : Octapharma Plasma Prepaid Debit Card Login
Contact Information
CashPass Visa Prepaid Card Customer Service Number: 1-877-766-3551
Toll-Free Automated Account Information Phone Number: 1-866-452-3434
Mailing Address:
CashPass Network
P.O. Box 906
Reference :