www.achievecard.com – Login Into Your AchieveCard Visa Prepaid Card Account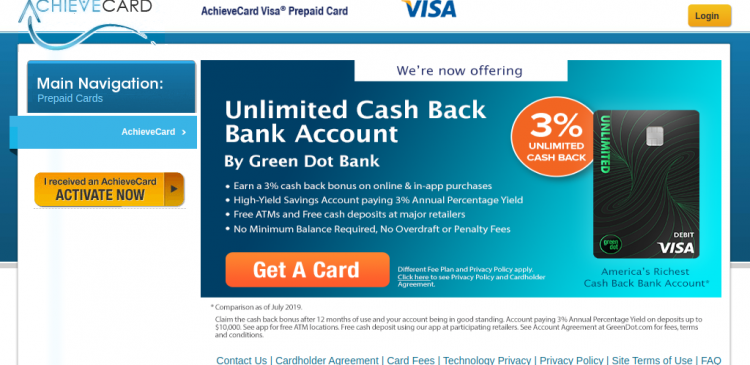 AchieveCard Visa Prepaid Card
AchieveCard Visa Prepaid Card is offering a safe, convenient and secure way to add the money to the card account and use it everywhere Visa Debit Cards are accepted. And when the balance starts getting low, It can be easily reloaded to continue using. In addition, AchieveCard allows the users to access their card online to get account information as well as manage it from the comfort of their home or anywhere as per their choice 24/7.
The AchieveCard Visa Prepaid Card was previously issued by The Bancorp Bank whereas the new card is provided by Green Dot Corporation and is issued by Green Dot Bank, Member FDIC, pursuant to a license from Visa U.S.A. Inc.
AchieveCard Visa Prepaid Card Features & Benefits
AchieveCard is a Reloadable Prepaid Visa Debit Card that is currently providing the users with the following benefits and advantages.
No required of a minimum balance or credit check

No overdraft or penalty fees

Extra $50 Cash Back Bonus for signing up

3% cash back bonus on online and in-store purchases

High-Yield Savings Account paying 3% Annual Percentage Yield up to $10,000

Free ATMs and free cash deposits at major retailers

Shop online, pay for gas at the pumps, book flights, rent cars, pay for reservations and make everyday purchases everywhere Visa Debit Cards are accepted

Load the card account with Direct Deposit or cash at participating retail store over 50,000 locations nationwide

Use direct deposit for your paychecks, Social Security, Unemployment, disability and Tax Refund,

Withdraw cash from any ATM and POS (Point-Of-Sale) devices bearing the applicable network acceptance marks i.e. Visa, Interlink, Plus or PULSE.

Ask for cashback from the cashier when making purchases like groceries to avoid ATM fees.

Pay the bills online

Get SMS alerts for various account activity updates and notification

Manage your AchieveCard Card account virtually and use all the available features at AchieveCard Online Access Center, My Card Place.
AchieveCard Visa Prepaid Card Fees Amount
Monthly Fee: $9.95 ($5 for Direct Deposit every 35 days)

Direct Deposit: $0.00

Cash Reload: $5.95

Mobile Check Load (Standard): $0.00

Per Purchase: $0.00

ACH Debit Payment: $2.50

ATM Withdrawal: $2.50

ATM Withdrawal Decline: $1.00

Teller Cash Withdrawal: $15

ATM Balance Inquiry: $1.00

Inactivity: $0.00

Bill Pay Stop Payment: $20.00

Replacement card: $10.00 (standard), $25.00 (expedited)

Customer Service: $0.00
How to Apply for an AchieveCard Prepaid Visa Debit Card Online
In order to get an AchieveCard Visa Prepaid Card, you can sign up online and open an AchieveCard account. To initiate the application procedure, you can
Visit the official AchieveCard Visa Prepaid Debit Card website, www.achievecard.com

Click on the "GET A CARD" button from the middle of the page and you will be directed to a secure online application form page run by Green Dot.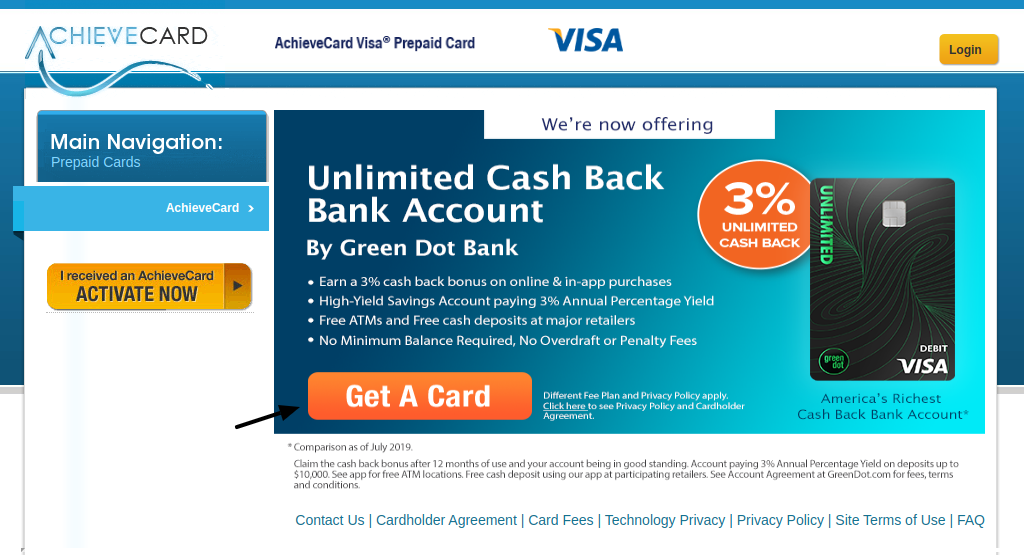 Next, you have to enter some of your personal and residential info like your first name, last name, address, apartment or unit number, and zip code.

Give your contact details i.e. mobile number and email address.

Enter your social security number and date of birth for identity verification.

Select the two checkboxes to agree to the cardholder agreement and consent to receive automated calls and text messages.

Click on the "OPEN MY ACCOUNT" button when you finish.
You may also require identifying documents to send to verify your address or the origin of funds deposited onto your AchieveCard Visa Prepaid Card.
How to Activate AchieveCard Visa Prepaid Card Online
After you receive your new AchieveCard Prepaid Visa Debit Card in the mail, you will need to activate the card before you can start using it. For the activation, you can choose online and complete the task in a few simple steps as described below within a couple of minutes.
Go to AchieveCard Prepaid Debit Cards website, www.achievecard.com

Click on the "I received an AchieveCard ACTIVATE NOW" button at the left-hand side of the page under Main Navigation.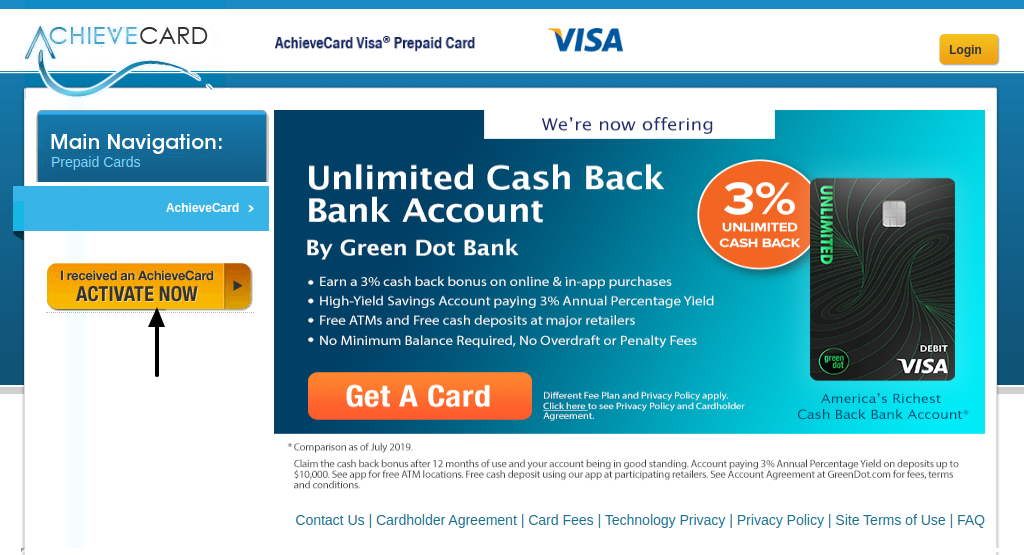 A new AchieveCard Visa Prepaid Card Activation tab will be open separately for you to enter the 16-digit number on the front of your AchieveCard in its field on the page.

Click on the "Continue" button.
You can also activate your AchieveCard Visa Prepaid Card by phone calling the Activation Number found on your mail package.
How to Register & Log In AchieveCard Online Account
Once activated, you can use your AchieveCard to make purchases or anywhere Visa Debit Card is granted but to get more control over the card, you have to register for online access and sign in to your AchieveCard Visa Prepaid Card Online Account. To set up your online account and log into it, you can
Visit www.achievecard.com

Hover the mouse pointer over "Login" at the upper left of the page and click on the "AchieveCard – Visa from the drop-down box of 'Choose Your Login'.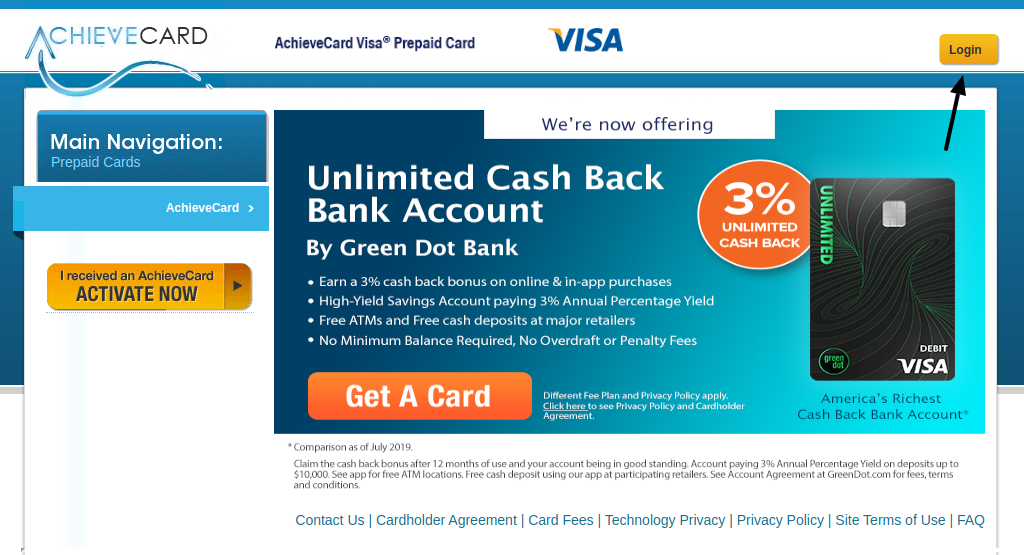 If it is your first time, enter the Card Number on the field under 'New User Registration and click on the "Register" button to create the required login credentials.

The returning users will need to enter their User ID and Password that they created during the AchieveCard Online Access Registration.

Check the "Remember Me" box if you plan to log in to the site frequently on the device and want to speed up the login process.

Click the "Login" button to enter your AchieveCard Prepaid Card Online Account.
When you are registered and log in to your AchieveCard Account, you can do a lot of activities and take the benefits of the online services to manage the card account over the web anytime anywhere. Like you can
Check your balance and transaction history

Pay the Bills

View recent transactions

Set up Direct Deposit and print out a form of it

Sign up for Text and Email Alerts

Edit or update profile and more.
How to Recover AchieveCard Online Account Login Information
If you do not remember your AchieveCard Prepaid Visa Debit Card Online Account login User ID and Password, you can recover them and obtain your online AchieveCard access again.
To retrieve the Username, click on the "Forgot your User ID?" link located at the bottom of the login section and enter your AchieveCard Prepaid Visa Card Number. And for a password reset, click the "Forgot Your Password?' link and enter the User ID of your AchieveCard Online Account.
Enter the visual verification code to ensure that you are really a person and cut down the spam. Then click the "Continue" button to complete the procedure as you will be prompted to find your User ID or change the Password of your AchieveCard Visa Prepaid Card Online Account
Also Read : CUMONEY Visa Prepaid Card Account Login Guide
Achievecard Customer Service
AchieveCard Visa Prepaid Card Customer Support Number: 1-800-486-0273
AchieveCard Visa Prepaid Card Activation Phone Number: 1-800-401-7935
Writing Address:
AchieveCard
PO Box 5100
Pasadena, CA 91117
Reference :