www.rushcardlive.com – RushCard Prepaid Card Account Login Process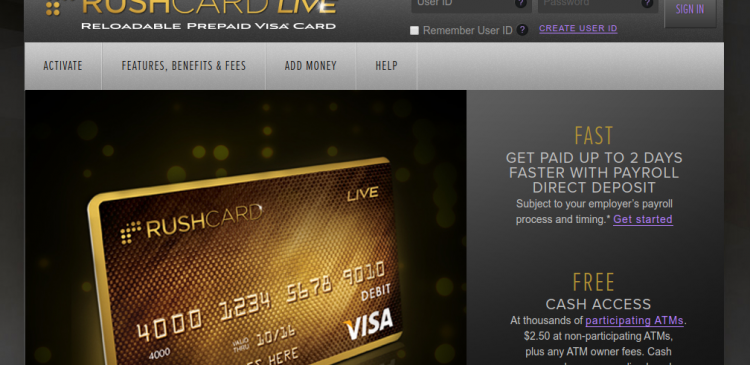 RushCard Live Prepaid Visa Debit Card
RushCard Live is a reloadable Prepaid Visa Debit Card that offers a safe and convenient way to save, manage and spend the money without any overdraft fees or credit check. Available in thousands of retailers nationwide, the card enables the users to shop online, pay bills, withdraw cash and make all purchases. Besides, the cardholders can manage and access their card account online through the RushCard Live website or RushCard Live Mobile.
RushCard Live Reloadable Prepaid Visa Debit Card Features & Benefits
RushCard Live Prepaid Visa Debit Card is issued by Green Dot Bank, Member FDIC, pursuant to a license from Visa USA Inc. With a personalized RushCard Live Visa Card, you can access all the available features and services such as
No overdraft fees or credit card debt

RushCard Live Reload products are available at over 60,000 retailers throughout the nation.

Shop and Pay bills everywhere Visa Debit Cards are accepted in the U.S.

Get paid up to 2 days faster with Payroll Direct Deposit

Automatically deposit all or part of your paycheck or government benefits to the card for free

Reload the card or add funds easily and conveniently in more than one way.

Get free cash access at thousands of participating ATMs and at non-participating ATMs with a charge

Withdraw cash inside a bank branch

Access the Card Account online or through RushCard Live Mobile for free to check the balance, track the transaction, find nearby reload or ATM locations and more.
How to Add Money to RushCard Live Prepaid Visa Card
There are several convenient ways to add money to your RushCard Live Reloadable Prepaid Visa Debit Card:
Direct Deposit
Enroll in Direct Deposit for government benefits and all or a percentage of your paycheck for free, fast and flexible reload to the card account and get paid up to 2 days faster. Ask your employer to submit the direct deposit information to the bank as many employers notify the bank of the Payroll direct deposit before the official payday.
Reload at the Register
Add cash directly to your card at retailers nationwide. Money Pak is not required; reload fees and limits apply. Reload at the register is available at the participating store such as CVS/Pharmacy, Dollar Tree, Kmart, Walmart, 7-Eleven, Rite Aid, Walgreens, etc.
Reload with Check at Walmart
Rapid reload up to $1,000 in cash to your card by cashing a check that must be preprinted like a payroll or government check at any checkout lane at a participating Walmart for a total of $6.74 only. Reload cannot exceed card limits.
Moneygram & Western Union
Visit a Moneygram or Western Union location near you and reload your card with Moneygram Xpress Payment or Western Union Payments service.
Bank Transfer
Add funds directly from your bank account, credit union, or other financial institutions.
RushCard Live Prepaid Visa Card Plans, Rates & Fees
There are two plans associated with RushCard Live Reloadable Visa Prepaid Card: Per Use and Per Month.
Per Use Plan has no monthly charge. The signature and PIN debit transaction fee is $1.00 per transaction. You are only charged for the first $10. It also has a maintenance fee of $1.95 which applied only after 12 months of no activity.
Per Month Plan includes a monthly charge of $5.95, assessed at the end of a billing cycle. It entitles the plan members to unlimited PIN debit and signature transactions without an additional cost. This monthly charge can be waived in a billing cycle in which you have 30 posted purchases or load $1000 to your RushCard Live Card.
If you do not register your RushCard Live Prepaid Card or verify your identity, you will be enrolled in the 'Per Month' plan be default as Fee Plan choices are available only at registration. However, there are some fees applied both Per Use and Per Month Plan like
Reloading Card
No Fees for Direct Deposit

Fees up to $5.95 charged by the reload agent and is subject to change
ATM Access & Cash Withdrawal
No charge at participating ATMs and at retailers offering cashback with purchases

$2.50 for cash withdrawals and 0.50 for balance inquiries at non-participating ATMs and bank teller locations.
Other Fees
$4.95 to report lost, stolen or damaged card

3% surcharge at merchants outside the US
Limitations
Daily Spent limit: $2,500

Minimum Initial Load: $10 or varies by retailer

Card Balance (Cash Load): $2,500

Card Balance (Direct Deposit): $10,000

Daily Direct Deposit Load limit: $10,000

Daily Cash Load limit: $2,500

Daily ATM Withdrawal limit: $3,000

Daily Bank Teller Cash Withdrawal limit: $3,000
How to Get RushCard Live Prepaid Visa Debit Card
RushCard Live Reloadable Visa Prepaid Card can be purchased at thousands of retail locations nationwide. In order to pick up a card, you can visit any of the retailers and buy it and follow the instructions on the package to register the card. During registration, you will need to verify and record your name, address, date of birth, SSN and phone number.
If your identity is successfully verified, your personalized RushCard Live Visa Prepaid Card will be shipped first class US Mail the next business day after registration and you will usually receive it within 7-10 business days.
Until your personalized card arrives in the mail, you can use the temporary card that you got in your RushCard Live package in-store to pay for purchases. The temporary card can be reloaded by purchasing a MoneyPak, enrolling in Direct Deposit or setting up an online reload from the bank.
How to Activate RushCard Live Reloadable Prepaid Visa Card Online
As soon as you receive your new personalized RushCard Live Visa Prepaid Card, you cannot use it immediately. You will need to activate it then the card will be ready to use. For online activation, keep your personalized RushCard Live card handy and follow the steps listed below.
Visit RushCard Live Prepaid Visa Debit Card official Website, www.rushcardlive.com

Click on the "ACTIVATE" button located at the upper left of the page.
Enter the Personalized Card Number in the first field

Select the right month and year of the Card Expiration Date in the next

Type the 3-digit Security Code printed flat on the right side of the signature panel on the back of the card.

Then provide the last 4 digits of your Social Security Number in its respective fields.

Create your 4-digit PIN that cannot be all the same digit or a sequence or click on the "CHOOSE PIN FOR ME" link to auto-generate a PIN Number on your behalf. (Remember, the PIN will replace the old PIN that you set for your temporary card but you can use the same number or create a new one)

Click on the "CONTINUE" button for confirmation.

Complete the rest following the on-screen instructions to activate your new personalized RushCard Live Reloadable Prepaid Visa Debit Card.
After the activation, the amount on your temporary card will automatically be transferred to your personalized RushCard Live Prepaid Visa Card and you will no longer be able to use the temporary card.
How to Create RushCard Live Visa Prepaid Card Online Account Access
In order to manage all aspects of their RushCard Live Visa Prepaid Card online 24/7 and access the most important information about the card account, the cardmembers will be required to set up their RushCard Live Online Account.
To initiate the procedure online, you can go to www.rushcardlive.com and click on the "CREATE USER ID" located under the login fields at the top right-hand side of the homepage. You will be prompted to Create Online like User ID page where you have to submit the following information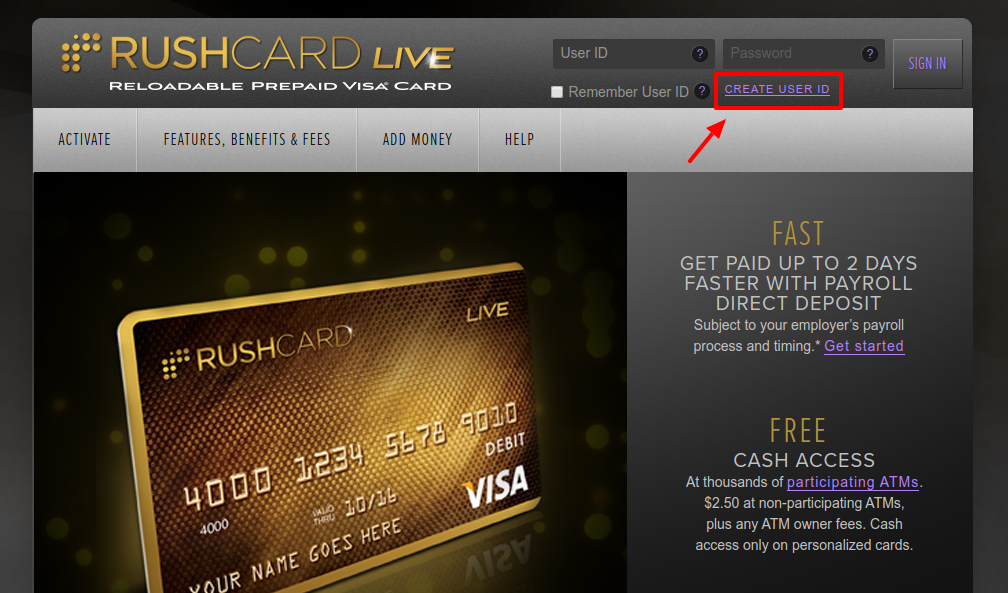 16-digit Card Number

Card Expiration Date

CVV

Date of Birth

And Mailing Zip Code
How to Login RushCard Live Visa Prepaid Card Online Account
Once the online account registration is complete, you can sign in to your RushCard Live Visa Prepaid Card Online Account anytime anywhere from any web browser. To log in,
Go to the RushCard Live Prepaid Visa Debit Card website, www.rushcardlive.com

Enter the User ID and Password that you created previously in their specific fields.
Click the "SIGN IN" button to enter your RushCard Live Online Account.
Before hitting the Sign-In button, you can check the "Remember User ID" box to store the username in a cookie in your computer so that each time you return to log in your account on the same device; it is filled automatically and save your time. For security, the feature is not applied to your password.
How to Recover RushCard Live Online Account Login Info
If you have forgotten your RushCard Live Visa Prepaid Card Online Account login credentials, click on the "FORGOT USER ID?" or "FORGOT PASSWORD?" link below the sign-in section at www.rushcardlive.com/prepaid/login. And submit the following details and confirm your identity to retrieve the username or reset the password.
Social Security Number

16-digit Card Number

3-digit CVV
RushCard Live Visa Prepaid Card Online Account Features & Benefits
After successful login to your RushCard Live Visa Prepaid Card Online Account, you can access all the benefits and features offered by RushCard Live online services like
Check your card balance

Enroll in Online Bill Pay to pay thousands of billers including many utility companies, cell phone providers and others in the US.

View the transaction history including pending and posted transaction

Receive and manage account alerts to your email, mobile phone or both

Update or change PIN

Find a reload location and surcharge-free ATM locations

Update profile and change your address

Sign up for RushCard Live Mobile

Close or cancel card account

Contact the online customer service and many more
Also Read : smiONE Visa Prepaid Card Account Login Guide
Important Information about RushCard Live Prepaid Visa Debit Card
RushCard Live Temporary Card cannot be used outside the US including foreign websites and at ATMs and other cash withdrawals.

But if the card is purchased from a financial service center like Pay-O-Matic, you can access cash from ATMs and at participating retailers

RushCard Live card cannot be used for gambling or for business purposes and its usage may be blocked in some countries due to fraud or security concerns.

Wire fund from a bank account is not accepted to a RushCard Live card.

The card re-issuance process starts usually 45 days before card expiration. If you have to make any address change, you need to do that prior to that time to ensure timely receipt of your new card.
Contact Information
RushCard Live Visa Prepaid Card Customer Support Number: 1-888-569-7730
Writing Address:
RushCard Live
P.O. Box 5100
Pasadena, CA 91117
Reference :