www.kaiku.com – How To Login Into Kaiku Visa Prepaid Card Account
Kaiku Visa Prepaid Card
Kaiku Visa Prepaid Card offers the consumers a convenient, low-cost and hassle-free way to manage their money and bank online. The card makes easy to load the funds, whether paid by cash, check or electronically like PayPal and Amazon, as well as use the money and track them over the web. And it helps a lot to the users to simplify their lives as they can avoid the mundane tasks of living and focus on important tasks and what really matters to them.
Kaiku Visa Prepaid Card Features & Benefits
Kaiku Visa Prepaid Card provides some awesome features that make managing finance easier than ever. With the card, you can
Direct Deposit all or part of your paychecks to the card account to skip lines at the bank and free up your paydays

Load cash into the card account at thousands of Visa ReadyLinks and MoneyGram locations across the country

Make purchases in-store, online, over the phone worldwide wherever Visa Debit Card is accepted.

Pay bills online by making one-time or recurring payments to any billers such as gas, electricity, cable, phone and other utilities

Send money easily to friends and families with an instant card to card transfers on Kaiku

Can have up to 3 additional users on one Kaiku Visa Prepaid Card Account and share the same overall balance.

Mobile banking with Kaiku mobile app to deposit all kinds of checks such as payroll, government, cashier's, tax refund and even personal checks

Get access cash at over 55,000 surcharge-free Allpoint ATMs throughout the US, Puerto Rico, Canada, Mexico, the UK, and Australia.

Get up to $200 per day in cash at international ATMs

$0 Monthly Maintenance Fee for loading at least $750 each month and ATM Transaction Fees for using in-network Allpoint ATMs

No charge in bill payment; card purchase, activation, replacement, and inactivity and international currency conversion
Fees
Maintenance Fees: $3/Month (waived if you load$750 or more)

ATM Transaction Fees: $3/transaction (waived if you use in-network Allpoint ATMs)

ATM Fees: Varies (depending on what ATM operator charges in addition to $3 per transaction)

Cash Loading: $2.95 to $4.95 (charged by the merchant)

Expedited Mobile Deposit (for immediate availability): 1% or 4% or minimum $5 (varies by check type)

Standard Mobile Deposit: $0 (may take up to 10 days)
How to Log In Kaiku Visa Prepaid Card Online Account
If you are a Kaiku Visa Prepaid Card member you can sign into the card account online and take advantage of the service like check the card balance, pay the bills, review the past transactions, manage the sub-accounts, locate the ATMs, set up direct deposits and many more.
You can get the necessary information for online account access in the mail package in which your Kaiku Visa Prepaid Card arrived at you. Here is a short guide provided for you to log in to your Kaiku Prepaid Card Online Account.
Visit Kaiku Visa Prepaid Card official website, www.kaiku.com

Click on the "SIGN IN" link found at the top right corner of the webpage.

Provide the Email Address and Password registered with your Kaiku Visa Prepaid Card in their respective fields on the Account Sign-In page.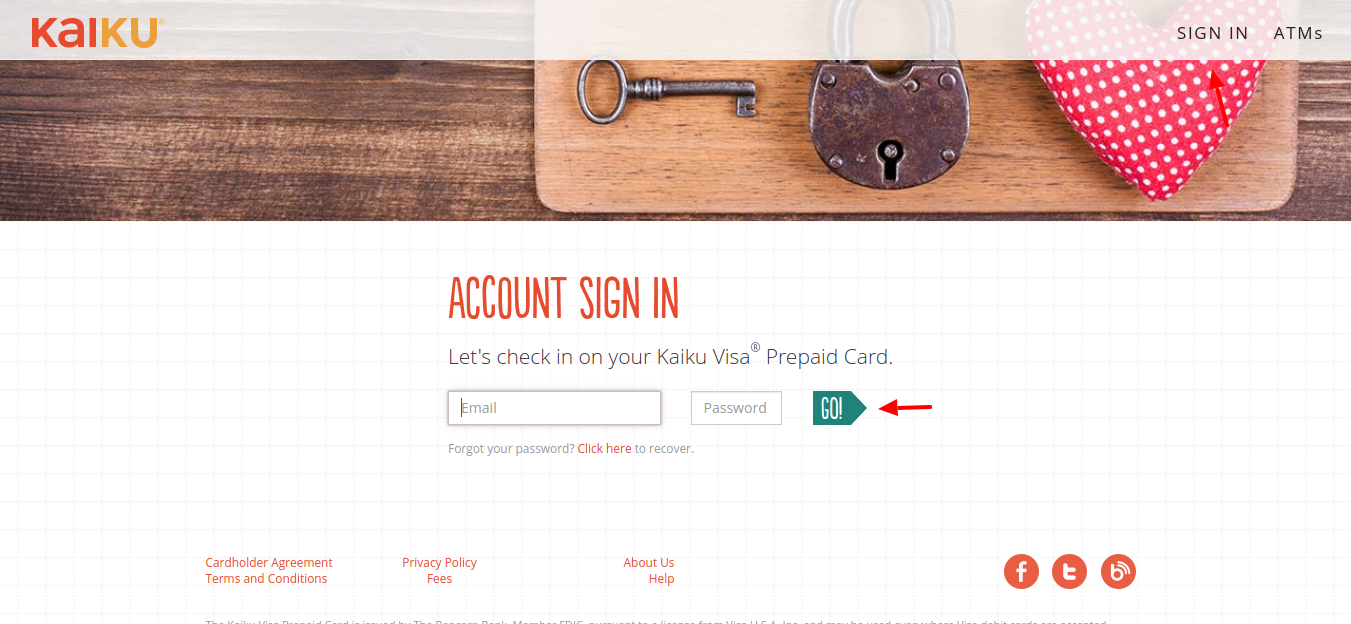 Click on the "GO" button to proceed.
Log In Help
If you have forgotten or lost the password, click the link provided under the Sign-In entry fields and enter your Email Address to begin the Kaiku Visa Prepaid Card Online Account Access recovery.
Note that only registered Kaiku Visa Prepaid Cardholders can access its online services. The new member ordered the card will need to wait for it to arrive. Usually, a Kaiku Visa Prepaid Card to be created and delivered takes 7-10 business days. If it has been longer, you can call the Kaiku Customer Support to seek assistance.
Also Read : E1 Visa Prepaid Card Login
Contact Information
Kaiku Visa Prepaid Card is issued by The Bancorp Bank, Member FDIC, pursuant to a license from Visa USA Inc. To know more about Kaiku Visa Prepaid Card, you can contact Kaiku by phone or via email.
Customer Service Number: (855) 285-2458 (available 24/7)
Email Address: customerservice@kaiku.com
Reference :