VanillaDirect Pay Login at pay.vanilladirect.com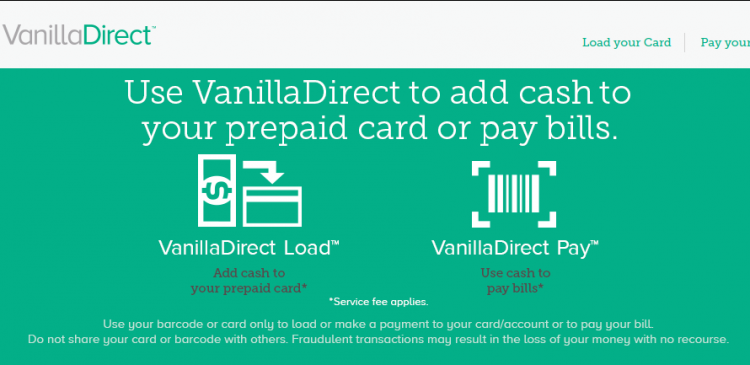 VanillaDirect Load & VanillaDirect Pay
VanillaDirect provides two types of services: VanillaDirect Load and VanillaDirect Pay, a comprehensive solution that offers the consumers to add cash or make a payment to the general-purpose reloadable prepaid, or debit cards, and to pay bills with cash in a safe and convenient way. Here we will discuss VanillaDirect Pay Login process and other details.
Using VanillaDirect Load, you are able to use cash to reload prepaid cards like MyVanilla, NetSpend, Serve and Univision while VanillaDirect Pay is used to pay bills to thousands of service providers like COMCAST, DirecTV, Verizon, AT&T, Sprint, T-Mobile, and more.
How to Load Cash with VanillaDirect Load
VanillaDirect Load is partnered with some of the most popular and leading prepaid card brands of the nation and makes millions of GRP (General Purpose Reloadable) cardholder's reload experience quick, easy, and secure. To enjoy the convenience of adding funds directly at the register, you will need to take the following easy steps.
Visit a participating VanillaDirect Load retailer with the prepaid card and cash

Give your card and the required amount of money including the additional fees to the cashier

The cashier will ring up the sale and load your funds directly to your prepaid card account.
VanillaDirect Load Retail Locations
To find out the participating VanillaDirect Load Retailers, you can go to the official VanillaDirect website at https://pay.vanilladirect.com/ and click on the "Find Retailers" link near the top right corner of the page. Or scroll down to see the list of VanillaDirect retail locations where you can add funds to your prepaid cards.
Some of the leading VanillaDirect Load retailers are 7-Eleven, Dollar General, CVS Pharmacy, Rite Aid Pharmacy, Walmart, Walgreens, Royal Farms and more.
Important Info on VanillaDirect Load
For each cash reload with VanillaDirect Load, a service fee up to $3.95 is charged by the retailer

Any amount from $20 to $500 can be reloaded to the prepaid card per transaction but it may vary upon the retail locations.

Most retailers allow to use the funds immediately after reloading the card but same require a brief waiting period to make the funds available for use. Better to check with your preferred retailers before the transaction.

MyVanilla, NetSpend, NEXTCALA, Money Network, American Express Bluebird, Momentum, PayPal, are some prepaid programs VanillaDirect Load partnered with.
How to Sign Up with VanillaDirect Pay
There are more than 10,000 billers and 40,000 retail locations nationwide listed in VanillaDirect Pay which provides users with the ultimate convenience and ease of using cash for their payment needs in today's digital world.
To get started using the service of VanillaDirect Pay, you must create an online account with it if you do not have one. For that, access a web browser and follow the brief steps mentioned below.
Go to the VanillaDirect Pay official site, www.vanilladirect.com/Pay

Click on the "Sign Up" link found at the top right or at the bottom of the 'Sign In' box.
Enter some of your personal and contact information i.e. First Name, Last Name, State, and Phone Number (Just to ensure you can be contacted for the information pertaining to your bills).

Input a valid Email Address which will also be your Username for the VanillaDirect Pay login

Create a unique 8-50 characters long password and re-enter the same password the second time to confirm.

Lastly, click the "Sign Up" button and your VanillaDirect Pay Online Account should be open.
VanillaDirect Pay Login and Pay Bills Guide
Once you have registered for VanillaDirect Pay and successfully set up your account, you can log into it anytime as you will be needed to get a barcode and pay various bills like phone, internet, cable, financial, insurance, utilities- electric, water, gas, and many more. Here is a short guide provided below to initiate a bill payment procedure with VanillaDirect Pay.
Enter the Email ID and Password that you created during your VanillaDirect Pay sign-up.

Click on the "Sign-In" button to access your VanillaDirect Pay account.
Find your billers through the biller search menu and create a barcode for each bill you want to pay with the biller account number. (You can also use the barcode on your paper bills).

Bring the barcode and cash including the applicable fees to a participating VanillaDirect Pay retail location.

Present them to the cashier to take the money, scan the barcode and process your bill for payment.
How to retrieve VanillaDirect Pay Login Details?
If you have trouble logging into your VanillaDirect Pay account for not remembering its password, you will be required to click the "Forgot Password?" link under the 'Sign In' button. Then, submit your email address and a new password will be sent to you.
VanillaDirect Pay Retail Locations
Dollar General, Family Dollars, 7-Eleven, CVS Pharmacy, Fred's, Speedway SSA, Kum & Go and independent locations are the participating VanillaDirect Pay Retailers to accept your payment slips.
If you are looking for a convenient find VanillaDirect Pay Retail Payment Location near you, find one online. For that, go online and access pay.vanilladirect.com. Click on the green "Find Locations" at the top right corner of the homepage. It will open a new tab with the map and locations close to your set address. The address and phone number of each retailer will be on the right-hand side of the page
And a list of the retailer's names will also be on the left-hand side. All the retailers' names will be checked by default. You can uncheck one or more of them based on preference. You can also enter the address, zip code, and city of your choice in the search bar at the top middle of the page and start searching.
VanillaDirect Pay Feature
In VanillaDirect Pay, up to a maximum of $500 for a single payment 

Up to a maximum of $2,000 during a 24-hour period is allowed to pay.

No required to pay the full amount of your bill at the register; just tell the cashier the amount you wish to pay towards the bill.

Service fees vary by billers. Check the fee associated a bill prior to generate the payment barcode in VanillaDirect Pay.

Need to create a unique barcode each time you want to make a payment.

To create a barcode, you have to provide your name and the biller account number.

The biller account number can be found on the paper sent by mail or going to your online account on that biller's website.

To know if your payment has been posted, check your bill payment status on the biller's website or calling the customer service number.

Recurring payments cannot be sent with VanillaDirect Pay but you can see all the past bill payments and opt to pay them again.
Also Read :
Contact Information
VanillaDirect Customer Service Number: 1-877-770-6408
VanillaDirect Pay Customer Service Number: 1-844-661-0115
Writing Address:
VanillaDirect Customer Care
P.O. Box 826
Fortson, GA 31808
Reference :