www.pingo.com – Login Into Your Pingo Prepaid Card Account
Pingo Prepaid Calling Card Online Account Login
Pingo, an international Prepaid Calling Card Service, enables the customer to sign up or log in to the Pingo account online and take advantage of the convenient Pingo features and benefits available to them. Easy to use for signing up, dialing and making calls, Pingo Online Account allows the users more control and better access to their Pingo Calling Card services.
Pingo is a part of iBasis, a subsidiary of KPN International and a leading carrier of international long distance phone calls routing millions of minutes of calls every day for major phone companies like AT&T and Verizon around the world including some of the providers of the prepaid calling cards that do not have their own networks.
Pingo Calling Plans
Pingo offers a variety of calling plans that suits every individual's calling needs. Currently, four plans are available in International Pingo Prepaid Calling Cards and all Pingo features come standard with all of them. You can choose any of the plans according to your calling need.
Pingo Premium: Ideal for occasional calling; Call rate: 3.5¢/min; No Monthly Plan Fee; Plan Validity: 180 days from last use.
Pingo Platinum: Classic plan ideal for day to day calling; Call rate: 1.75¢/min; $0.98 Monthly Plan Fee; Plan Validity: valid until closed; foreign currency billing
Pingo Diamond: Super low rates best for frequent callers; Call rate: 1.5¢/min; $1.98 Monthly Plan Fee; Plan Validity: 30 days from enrollment
Pingo Mega: Most competitive rates and maximum calling; great for the person who wants to stay connected with their family and friends all the time. Call rate: 1¢/min; $2.98 Monthly Plan Fee; Plan Validity: 30 days from enrollment.
Pingo Prepaid Calling Card Features & Benefits
Pingo offers great rates on international as well as the domestic long distance along with best call quality, simplicity, and convenience. With all of the Pingo Calling Plans, you can get the following features to enjoy.
Pingo Auto-Recharge to keep your Pingo account balance recharged and not run out of calling time when you need it.

Auto-Plan Renewal to be enrolled in your selected Pingo Calling Plan for the entire validity period

PINpass Number to make calls entering without Pingo Account Number and PIN

Speed Dial to make calls easily entering only a few digits

No Recurring Commitment; the remaining balance will be carried forward

Refer-A-Friend to Earn extra account credit by referring Pingo friends and family

Pingo Business to save money on international calls for your business

Print-A-Card when you travel or need to remember your account information

No connection fees; No fine print; No Hidden Fees or Charges; just a nominal straightforward Monthly Plan Enrollment Fee based on your calling plan.

Online Account Access to track your billing history, call history and usage; recharge; see account details and balance and more.
How to Log In Pingo Calling Card Account Online
To access all the Pingo features like call online, change the PIN, set up PINpass, view billing history; refer a friend, print your Pingo Calling Card, update credit card info you will need to log into your Pingo Calling Card Account online. For logging in Pingo Member's Area Section, You can
Visit Pingo official website, www.pingo.com

Click on the "Sign In" link next to 'Hello! Already a member?' at the top right of the page.
The first time users enter their 10-digit Account Number and 4-digit PIN in the Username and Password field respectively.

And those, who have already assigned their account a Username and Password, enter their associated Email Address and Password.

Select the CAPTCHA phrases and then the "Submit" button which will take you to your main Pingo Member's Area dashboard.
For security, the login session will be timed out after 10 minutes of no activity on the page. You are also recommended to log out of your account after each visit to ensure the session is properly terminated.
How to Recover Pingo Calling Card Account Login Info
Do not know or cannot remember your Pingo Calling Card Account Username? It is the email address you have registered when you sign up for the service.
And in case, you lost your Pingo Member's Login Password or PIN, you will be required to click on the specific link next to "Forgotten your Username or Password?" at the bottom of the login page and enter the Email Address used to create your Pingo Calling Card Account. An email with a reset link will be sent to you. Follow the instruction and create a new password. Save the changes and log into Pingo Account with your new login credentials to confirm the access.
Also Read : RushCard Prepaid Card Account Login Process
How to Sign Up Pingo Prepaid Calling Card Online
If you are not a Pingo Member and want to access its service, you can buy a Pingo Calling Plan and set up an account online. In order to enroll for Pingo Prepaid Calling Card, you can take the steps listed below.
Go to www.pingo.com

Choose any of the plans according to your calling need and click on the "BUY NOW" button at the bottom of the respective box.

Enter an Email Address that will be used as your Pingo Account User ID

Provide a Phone Number to receive a call or SMS with validation code from Pingo. Ensure the number is turned on.

Create a password that must be at least 8-characters long and re-type the new password to confirm

Select the captcha and two checkboxes and click on the "Send Validation Code" button.

If any call or SMS message is not sent to you, click on the "Resend Validation Code" button

Enter the 6-digit validation code when you receive it and click on the "Submit" button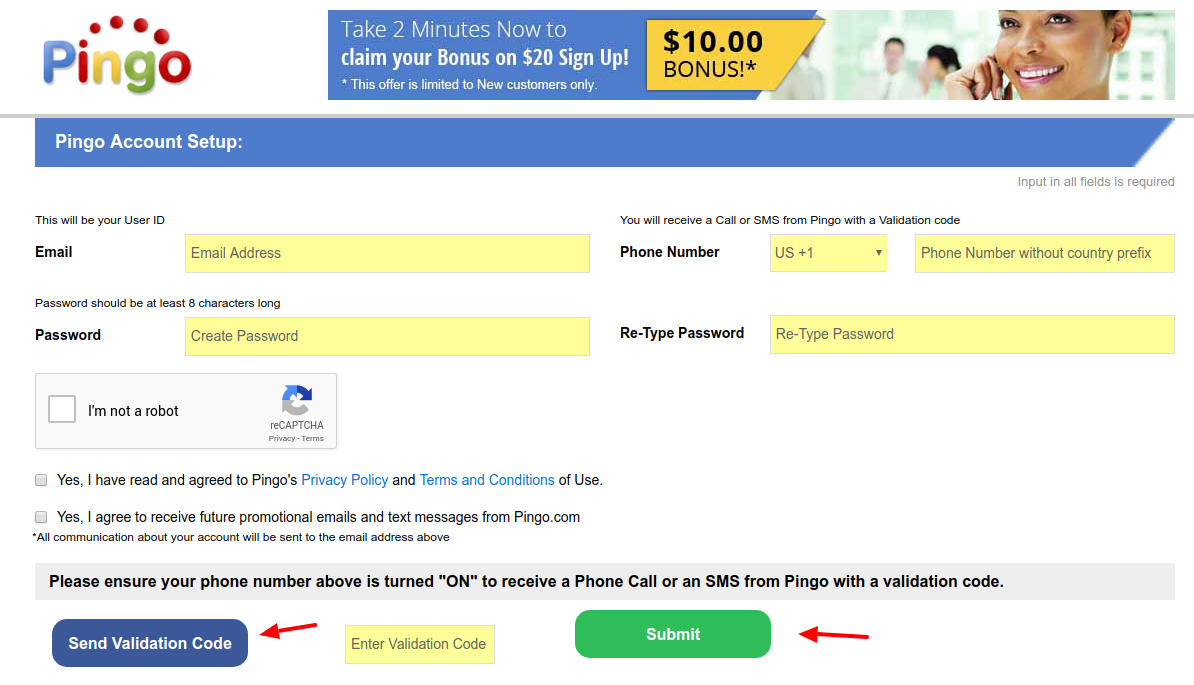 A summary of the account details with your Account Number, PIN, Email Address and Calling PIN will appear on your screen and your Pingo Prepaid Calling Card Account Set up process is done.
Now you can add a payment method to the account from the navigational menu or close it and log in later to complete adding a payment method and recharging balance.
Note that, New Pingo account must be active at least for 36 hours before the auto-recharge process to be started or to process manual recharge to the account.
Once you are signed up, dial the local or toll-free access number for the country you are calling from following the prompts. With a pass, you can also register the phones or mobiles you want to use most so that you do not need to enter your Pingo Account Number and PIN each time.
Contact Information
Pingo Customer Service Phone Number: 1-888-878-8838
Email Address: contact@pingo.com or customerservice@pingo.com
Mailing Address:
Pingo.com
10 Maguire Road, Bldg. 3
Lexington, MA 02421 USA
Reference :