How to Find and Use Your Ulta Credit Card Login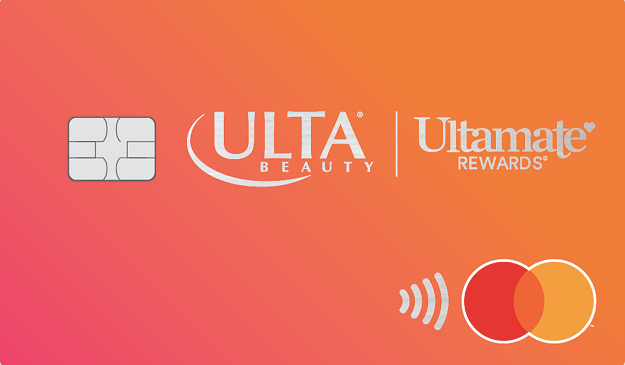 Ulta Credit Card Login and Bill Payment Guide
Ulta Beauty with more than 1,250 stores is the largest specialized beauty retailer in the U.S. formerly known as Ulta Salon. Its Beauty changed the game in the Beauty product industry with All Things Beauty, All in One Place an experience with how beauty lovers actually shopped. Ulta Beauty provides two credit cards for their user offered by Comenity Capital Bank. In this article, we will focus on Ulta Credit Card Login, How to apply for Ulta Credit Card, and bill payments.
With the Ulta Ultamate Rewards Credit Card and the Ultamate Rewards Mastercard user can earn additional points, rewards, and other benefits on their purchases of qualifying products and services at any participating Ulta Beauty store or online at ulta.com. The card is issued by Comenity Capital Bank, a deposit money bank of United States of America.
Ulta Credit Card Features and Benefits
Ultamate Cardholders can enjoy some amazing benefits which are only offered to them such as:
No annual fee
Receive 20% discount coupon through Ulta Beauty emails for their first purchase at Ulta Beauty.
Earn 2 Ultamate Reward points for every $1 spent at Ulta Beauty
Earn 500 welcome bonus points spending on $500 outside of Ulta Beauty within the first 90 days of account opening.
Ulta Credit Card Fees Information
No annual fee is required
No interest on the purchase if you paid fully by the due date each month
APR- 27.49% at the time of account opening
Transaction Fees- $9.95 per promotional credit plan purchase
Penalty Fees- up to $38
The cash advance APR is not included
To redeem Ultamate Rewards points
You can start to redeem the rewards points you earned when you have minimum 100 points. The redemption can be done both online and at the store. The increments can be redeemed based on the following scale:
100 points = $3.00 discount
250 points = $8.00 discount
500 points = $17.50 discount
750 points = $30.00 discount
1000 points = $50.00 discount
2000 points = $125.00 discount
Requirements for the Ulta Ultamate Credit Card application procedure
To apply for the Ulta Credit Card applicant need to meet certain requirements such as:
Need to reach the age of majority in your state or territory
Have a valid government issued Photo ID
Have a valid government issued tax identification number (i.e. SSN/SIN)
Have a street, rural route, or APO/FPO mailing address (PO Box is not required)
How to Apply For Ulta Credit Card?
If you want to apply for Ultamate Rewards MasterCard or Ultamate Rewards Credit Card then follow the below steps
After that, you will be redirected to the application page. The entire application process is divided into 3 sections.
Step 1
To apply for the card first you need to sign in to your Ulta account by entering-
Your email address or username
And password
If you have not, create one by providing:
Your email address
Create and confirm a password
Step 2
In the second part complete your contact information by entering
First name
Last Name
Apartment/suit/unit/building/floor etc.
Zip Code
City
State
Phone number
Step 3
The last step is for verification purpose where you have to input your-
Date of Birth
Annual Income
Social Security Number
If you want to add someone to your Ulta Ultamate Credit Card account, here you can do that by providing some details about that person.
Agree to the terms and conditions and "Submit Application".
Check Your  Ulta Credit Card Application Status
Though Ulta Mastercard or Ultamate Rewards Credit Card Approval process is instant. But if you face any issue with the application status you can call the Customer Care number.
Activate your Ulta Credit Card
Before you start using your credit card you need to activate it first. To activate Ulta Credit Card Follow the below instruction
First, visit Ulta Credit Card page on Comenity Capital Bank site d.comenity.net/ac/ultamaterewardsmastercard
Next From the main menu click the 'Activate Card' Link and it will be redirected to the activation page
Enter the required details and click continue to finish the Ulta Credit Card activation process
How to Register Ulta Credit Card online
If you want to use your Ultamate Rewards Credit Card online then first you have to register your card online.
To register your card go to this link d.comenity.net/ultamaterewardsmastercard and click Register For Access menu. On the next page enter the details and Click the Find My Account button for to finish your Ulta credit card online registration.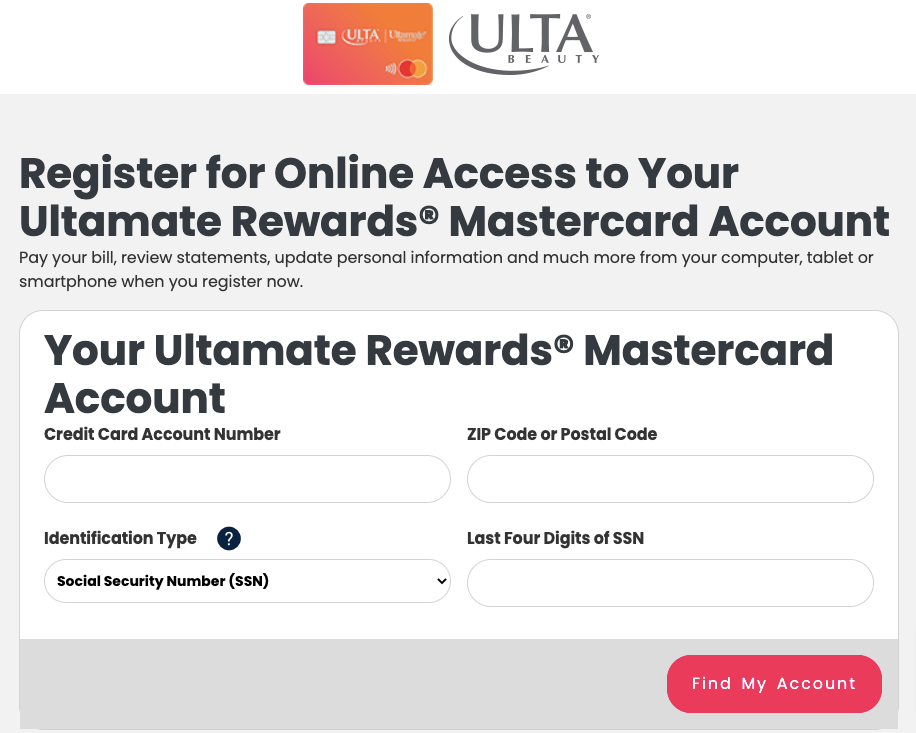 Registration Benefits of Ulta Credit Card Login Account For Online access
If you register Ultamate Credit Card for online access from PC, laptop, tablet, and mobile devices you will get the following benefits.
You can view your bill and pay the bill online.
You can check your detailed account activity
Check your Ulta credit card balance
You can update your personal information easily.
Ulta Credit Card Login process
Now enter your Username, Password and click on 'Sign In' button to log into your Ulta Credit Card Account.
How do I make a payment on my Ulta credit card?
You can pay your Ulta credit card bill by pay online, by phone, by mail, by mobile app, and by EasyPay.At the moment Ulta does not accept cash payments in the Ulta stores.
Ulta Credit Card Payment By Online Method
To pay your Ulta credit card bill online visit: ulta.com/credit and click on 'Manage Account'.Then login to your online account to pay your bill.
Pay an Ulta Credit Card Bill by Phone
Keep your credit card Bill and your card number or Social Security number, your bank account information handy.
Then Call Comenity Capital Bank services at 866-257-9195, TDD/TTY: 888-819-1918
Follow the automated instruction to complete your payment.
Make an Ulta Credit Card Payment by EasyPay
Make your Comenity Credit Card bill hassle-free by  EasyPay without any online account .To pay with "EasyPay' follow the below steps
To pay your Ultacard bill by easy pay visit: d.comenity.net/ultamaterewardscreditcard
Now click on 'EasyPay' link from main menu.
On the next page enter your details and click on 'Find My Account'  for further process to complete your credit Card bill.
Pay Ulta Credit Card Bill by Mail
You can also mail in your Ulta Credit Card payment, but make sure you mail it early so its reaches before the due date.
Write a check or purchase a money order with the bill amount payable to Comenity Capital Bank for Ultamate Rewards Mastercard or Ultamate Rewards credit card.
Mail your Ulta payment to the below address:
          Comenity Capital Bank 
          Ultamate Rewards Mastercard or Ultamate Rewards Credit Card
PO Box: OH – 659820
San Antonio TX, 78265-9120
Besides that, you can pay your card bill through Ulta mobile app.
FAQs For Ultamate Rewards MasterCard and Ultamate Rewards Credit Card
What is Ultamate Rewards credit card?
The Ultamate Rewards Credit Card is a card that can only be used on ulta.com and Ulta Beauty stores.
 Where Can I use my Ultamate Rewards Mastercard?
You can your Ulta Rewards Mastercard anywhere MasterCard is accepted and in Ulta stores. It can be used on ulta.com also.
 Can I use my Ulta credit card at Target?
You can use Ulta Rewards Mastercard on target stores but Ultamate Rewards Credit Card cant be used on target stores.
Does my Ultamate Rewards credit card report to credit bureaus?
Yes, Ulta Rewards Mastercard reports your credit activity to Equifax. Experian. Transunion.
Which bank issues Ulta credit card?
Comenity Capital Bank
Contact Details
Customer Service number 1-866-257-9195
Mailing Address
Ulta Beauty Guest Service
1000 Remington, Blvd
Ste 120, Bolingbrook, IL 60440
More Related Resources You May Read