www.mgmresorts.com – Apply for MGM M life Rewards MasterCard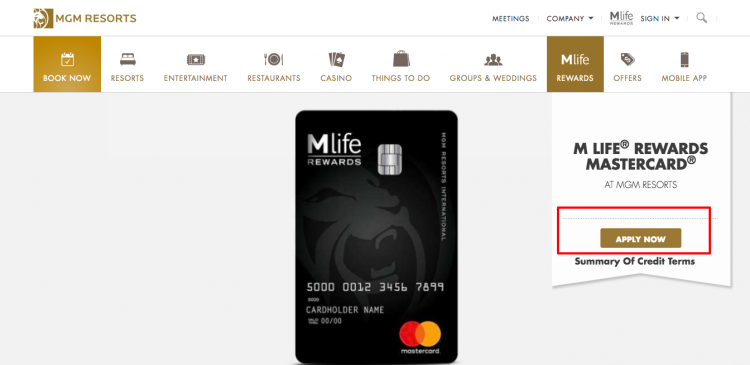 M life Rewards members are offered to apply for the M life Rewards Mastercard to take full advantage of the Rewards Program such as earn both points and Tire Credits on their daily purchases at M life Rewards destination, supermarket, restaurant, on gas. Along with that, they will also enjoy other rewards, perks and additional benefits for using the M life Rewards Mastercard Credit Card.
The MGM M life Rewards Mastercard is issued by First Bank Card, a division of First National Bank of Omaha, pursuant to a license from Mastercard International Inc.
M life Rewards Mastercard Application
To apply for an M life Rewards Mastercard, the applicant must be a member of M life Credit Card Rewards Program in good standing with a US resident address and at least 21 years of age. Those, who have the eligibility and interested to have an M life Rewards Mastercard, can follow the short guideline for the application procedure.
Click the "APPLY NOW" button from the right-hand side of the page.
Enter the Email and Password and sign in to your M life Rewards account to apply for the credit card.
If you are using your M life Rewards Account Online for the first time, you need to activate your account providing your Email, M life Rewards Account Number (you can skip it as it's optional) and your Birth Date.
M life Rewards Account
And those, who don't have an M life Rewards Account, can sign up for the Rewards Program and begin the enrollment by hitting the button of "Join Today" in the Sign In page.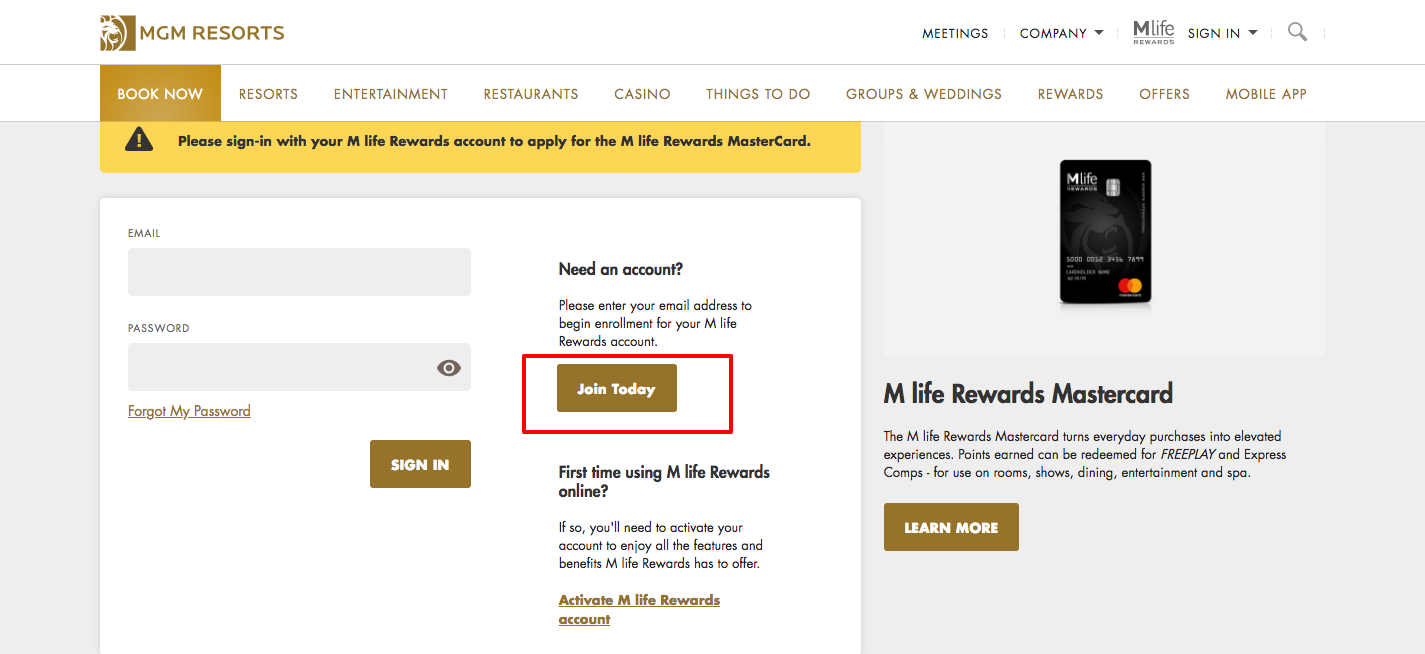 There they need to enter and reenter their Email Address and create a password of at least 8 characters including one number, one capital letter, and one lowercase letter. After that, the applicants have to provide the following information to set up their M life Rewards Account.
First Name
Last Name
Phone Number (10 to 16 digits)
Birthdate (MM/DD/YYYY)
Country/Region
Address Line 1 and 2
City
State/Province
Zip/Postal Code
Then select your Account Access Security question and type its answer to the next field. It will help to identify you if you have any trouble with your M life Rewards Account in the future.
Check the box of privacy policy and programs rules acknowledgment and acceptance prior to clicking the "Create M life Rewards Account"
MGM M life Rewards Mastercard Rewards and Perks
Get up to 3 points and 3 tier credits per $1 spent at M life Rewards Destinations
Earn 2 points and 2 tier credits per $1 spent on gas and supermarket purchases
Earn 1 point and 1 tier credit per $1 spent everywhere else
In addition to receiving 10,000 points for spending $1000 in first 3 billing cycles
10% bonus on points and Express Comps for gaming spend
Complimentary self-parking, Buffet Line Pass at Las Vegas Resorts and other exciting perks at Pearl Level Status
Rewards points can be redeemed for FREEPLAY and Express Comps for use on rooms, shows, dining, entertainment, and
M life Rewards Mastercard Credit Card Benefits
No Annual Fee
No Foreign Transaction Fee
Automatic upgrade to Pearl Level Status and remain as long as your M life Rewards Mastercard is open and in good standing.
Gain access to priority hotel check-in privileges at any M life Rewards destination
Rates and Fees
Purchase, Balance Transfer, and Cash Advance APR- 20.49%
No Penalty APR
Balance Transfer Fees- $10 or 5% of each transfer amount
Cash Advance Fees- $15 or 5% of each transfer amount
Late Payment Fees- up to $37
Returned Payment Fees- up to $35
Contact Information
Customer Service Number- 1-888-295-5540
References:
www.mgmresorts.com/en/mlife-rewards-program/mlife-rewards-mastercard.html
www.mgmresorts.com/en/mlife-rewards-program.html