www.getmyollocard.com – Apply for Ollo MasterCard
Apply for Ollo Mastercard Credit Card
The prequalified customers, who have received an offer letter in the mail to apply for the Ollo Mastercard, can respond to the offer through a safe and secure online portal located at https://www.getmyollocard.com. Once you complete the application process with your personalized Reservation Number and Access Code, you will get a response no longer than 60 seconds.
Currently, Ollo Mastercard is offered through invitation only. So, apply for an Ollo Platinum Mastercard or an Ollo Rewards Mastercard, you must have invitation offer mail. Ollo Mastercard is issued by The Bank of Missouri under the license from Mastercard International and serviced by Ollo Card Services.
Ollo Mastercard Application  
It's very easy and fast way to apply for the Ollo Card over the web with the Reservation Number and Access Code. As a pre-approved applicant, some of the fields on your application form will be auto-filled. Complete the rest and receive an instant decision within 60 seconds.
To initiate the application procedure keep the invitation offer mailer near at your hand and follow the steps right below:
Visit the Ollo Card Application site www.getmyollocard.com
Enter the 10-digit Reservation Number and 6-digit Access Code from the offer letter in their respective blank fields. (Both pieces of information can be found together at the bottom of the letter.
Click the blue "SUBMIT" button to continue and provide the details you will be asked to enter including the information about our income, employment, mortgage or rent, finance, and others to complete the application and receive the decision about the approval or denial instantly.
Ollo Card Application
If you are approved you will learn of your credit limit and your new Ollo Mastercard will be sent to your mailing address within 7-14 business days.
Activate your Ollo Mastercard
After receiving the new Ollo Mastercard Credit Card, users need to activate it to use and make purchases. For the activation process, the card recipients need to go to the Ollo Credit Card website at www.ollocard.com and click the "ACTIVATE CARD" link from the top of the page and enter the following information to initiate the process.
Last name on the Card
Date of Birth
Last 4 digits of SSN
Newly received 16-digit Ollo Card Number
And Card Expiration Date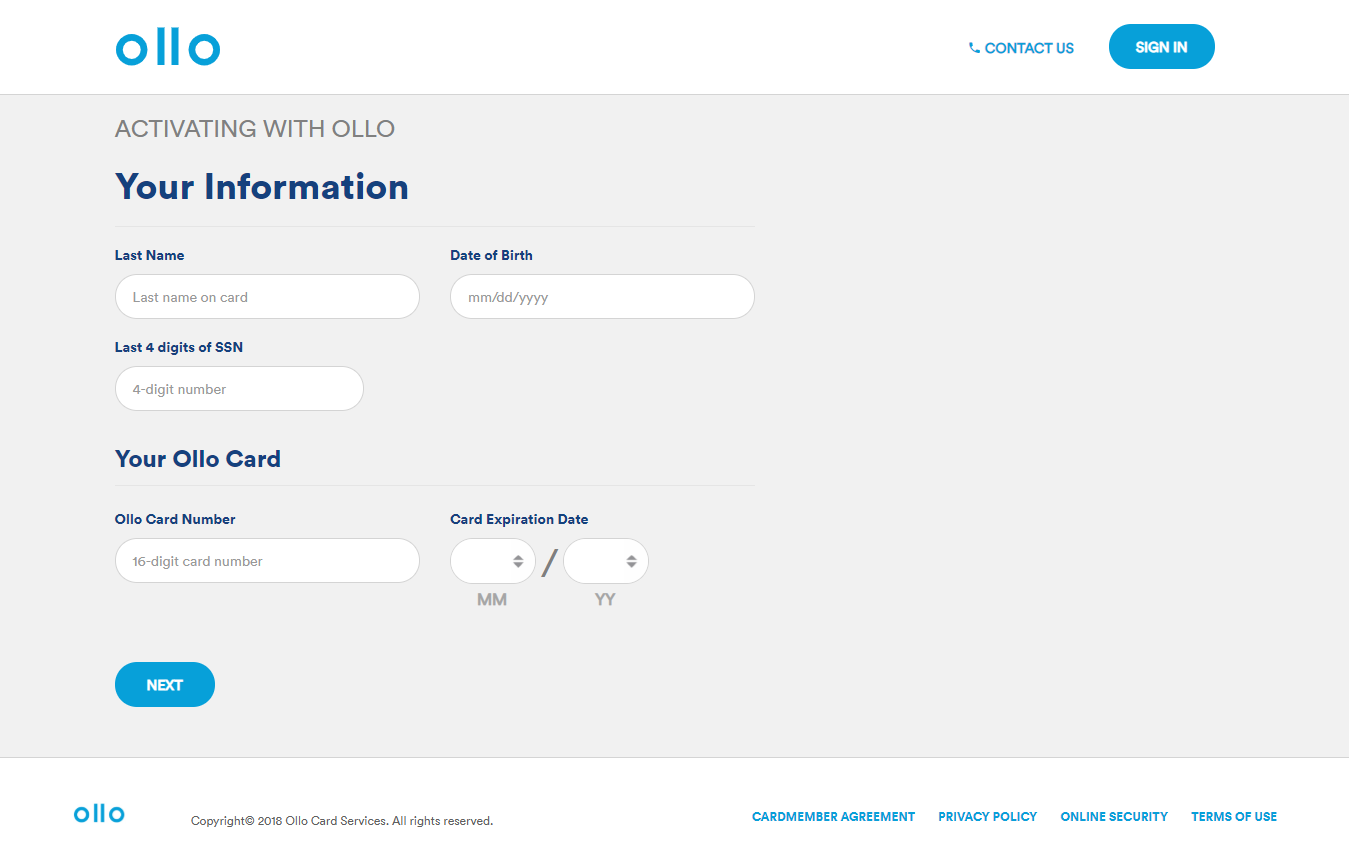 Ollo Mastercard Features and Benefits
There are two types of Ollo Mastercard available- Ollo Platinum Mastercard and Ollo Rewards Mastercard. Most of the benefits and perks are same and both Cardmembers will enjoy those such as:
No over the limit fees
No returned payment fees
No foreign transaction fees
No rate hike if you make a late payment
Zero fraud liability protects the users against unauthorized purchases
24/7 US-based standard customer service
Fast, easy online and mobile access to manage the card account from anywhere
Additional Benefits
Some features of the Ollo Mastercard are different from each other and the particular Ollo Mastercard will get to receive those benefits.
Ollo Platinum Mastercard
No Annual Fee
Automatic credit line increase reviews
Free FICO Score available online
0% introductory APR for 9 months on purchases and balance transfer
Ollo Rewards Mastercard
2% cash back on gas station, grocery store and drugstore purchases
1% cash back on all other purchases
Unlimited rewards; no expiration date
Low Annual Fee
Rates and Fees
APR- currently 24.99%
Annual Fee -$0 to 39%
Balance Transfer- $5 or 4%, whichever is greater
Cash Advance– $10 or 5%, whichever is greater
Penalty Fees – up to $38
Contact information
Ollo Card Services
PO Box 9222
Old Bethpage, NY 11804
Refrence: