www.indigoapply.com – Apply for Pre-Approved Indigo Platinum MasterCard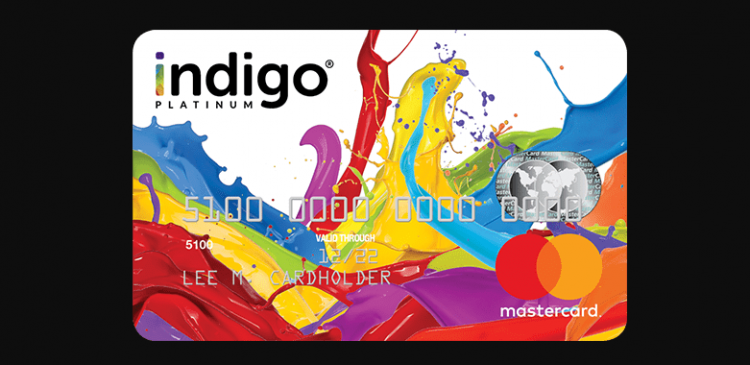 Apply for Indigo Platinum Mastercard
The prequalified consumers, who have received a preapproved Indigo Platinum Mastercard offer in the mail and interested in establishing or rebuilding their credit, can apply online at www.indigoapply.com. Once you complete the application process, it will take no longer than 60 seconds to get a response.
Though you are a prequalified applicant, Indigo does not guarantee you will definitely be approved. The final decision will be made after reviewing your application and verifying the information provided by to ensure whether you meet all the requirements for the offer.
Indigo Platinum Mastercard is issued by Celtic Bank, based in Salt Lake City, UT and serviced by Genesis Card Services.
Requirements for Indigo Platinum Mastercard Application
If you did not receive any mail offer to apply for Indigo Platinum Card, you can submit a prequalification request form to see if you are prequalified based on your credit profile. The pre-qualification process has no impact on your credit score. To be eligible to request a preapproval offer-
You must be at least 18 years old (19 years in Alabama)
Have a valid Social Security Number, Physical address and a US IP Address
You have not submitted a request for an Indigo Mastercard in the last 60 days
To apply for Indigo Platinum Mastercard
It's very easy to apply for the Indigo Platinum Card online. The entire procedure can be done in three simple steps. For the application over the internet, you can keep the Indigo preapproved Platinum Mastercard invitation mailer handy and follow the steps right below:
Visit the Indigo Platinum Mastercard application page www.indigoapply.com
Enter the 12-character Invitation Number from your preapproval offer letter in the three-sectioned blank field. (If you need help finding your invitation number, move your cursor on the next round 'i' icon to locate the number on your letter).
Enter the 5-digit Zip Code.
Click the orange "Get Started" button to enter the second step of the application process where you have to provide a few more details including the information about our income, employment, mortgage or rent, finance, and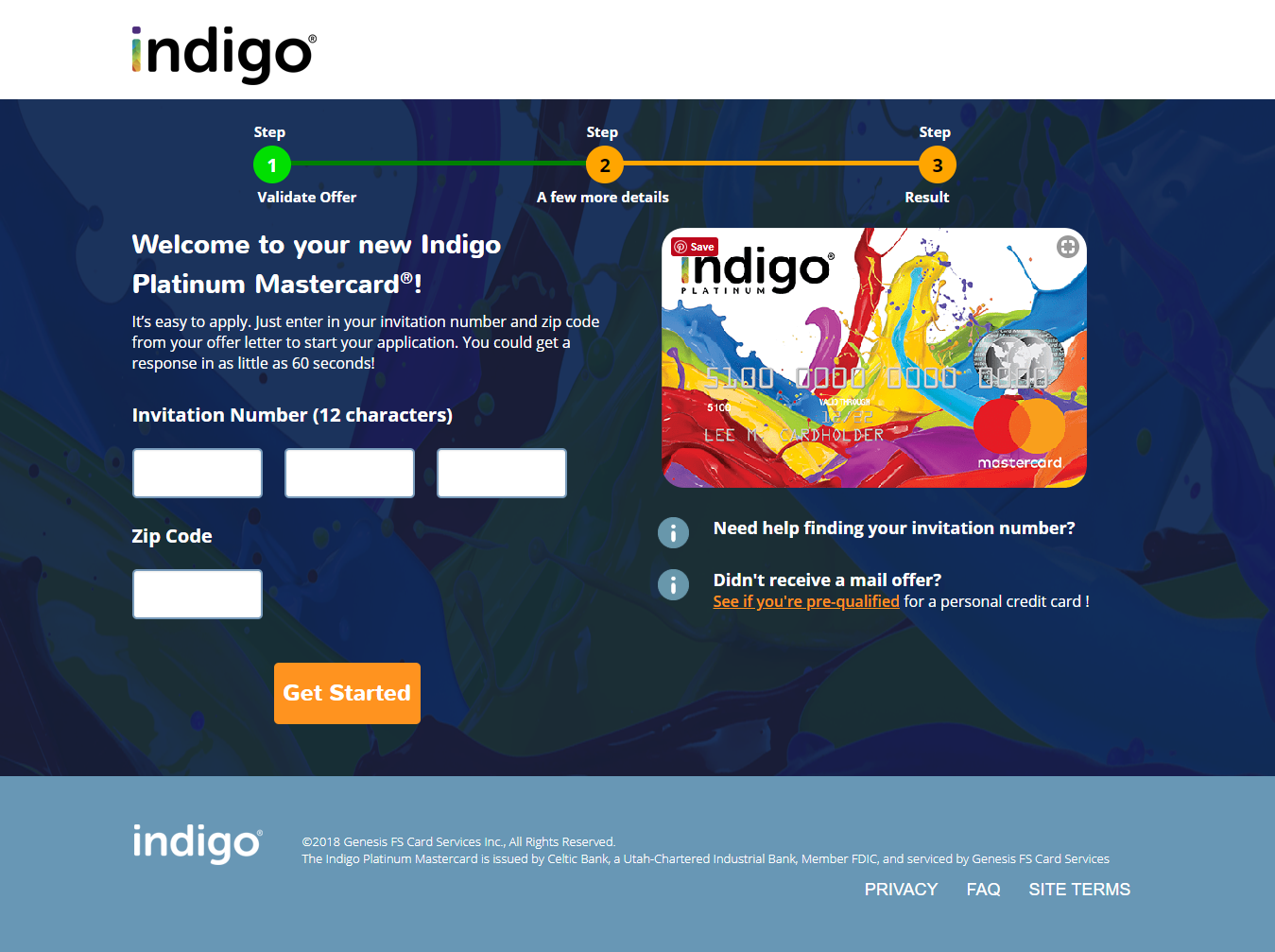 As a pre-approved applicant, some of the fields on your application page will be auto-filled. Complete the rest and then go forward to the third or last step that results. You will receive an instant decision.
If you are approved you can also learn of your credit limit will be determined based on your credit history and your new Indigo Platinum Mastercard will be sent to you within 14 business days.
Indigo Platinum Mastercard Features
The Indigo Platinum Card is a good choice for those who have limited credit, bad credit or no credit. Some of the main features and benefits of using the cards are
By making regular on-time monthly payments and demonstrating the kind of financial responsibility you can build a good payment record that will be reported for all three major credit bureaus.
Establishing a good payment record will also help you qualify for better rates on a mortgage, car loans and other forms of credit.
The Indigo Platinum Mastercard is accepted worldwide
Manage and access your Indigo Platinum Mastercard Account and monitor the card activity 24/7 from your mobile, computer, tablet etc.
Other Additional Benefits
Identity Theft Resolution Services
Extended warranty coverage
Price Protection
Guide to Benefits for the Program Details
Free Custom Indigo Platinum Card Design
Rates and Fees
9% APR with $0 Annual Fee.
9% APR with $59 Annual Fee.
9% APR with $75 for the first year and then $99 Annual Fee
Penalty Fees for Late Payment, Over-limit and Returned Payment – up to $38
Not everyone will qualify for the lowest APR or Annual Fee. It will be determined after reviewing the applicant's credit profile.
Reference: