www.carecredit.com – Apply for CareCredit Rewards MasterCard
CareCredit invites the consumers to apply for CareCredit Rewards Mastercard Credit Card to take advantage of all the card benefits such as use it to pay high deductibles, co-pays, co-insurance as well as for various health, wellness and beauty treatments like dental work, new hearing aids, vision or cosmetic procedures or get care for a family pet. CareCredit provides the financing services that generally are not covered by insurance.
Using the CareCredit Rewards Mastercard the cardholders can enjoy the promotional offer on purchase of $200 or more in the CareCredit network, earn points on qualifying purchases and receive the Mastercard benefit coverage. The card is issued by Synchrony Bank pursuant to a license from Mastercard international.
The CareCredit Rewards Mastercard Online Application
The CareCredit Credit Card application can be done by both over the web and the phone. To apply online, the applicant must be 18 plus and for the phone application, you should be above 21 years. And it is also recommended to read the Credit Card Account Agreement and all the terms and conditions associated with the card before moving forward to the application procedure. You will get the respective link at the bottom of the Application Page.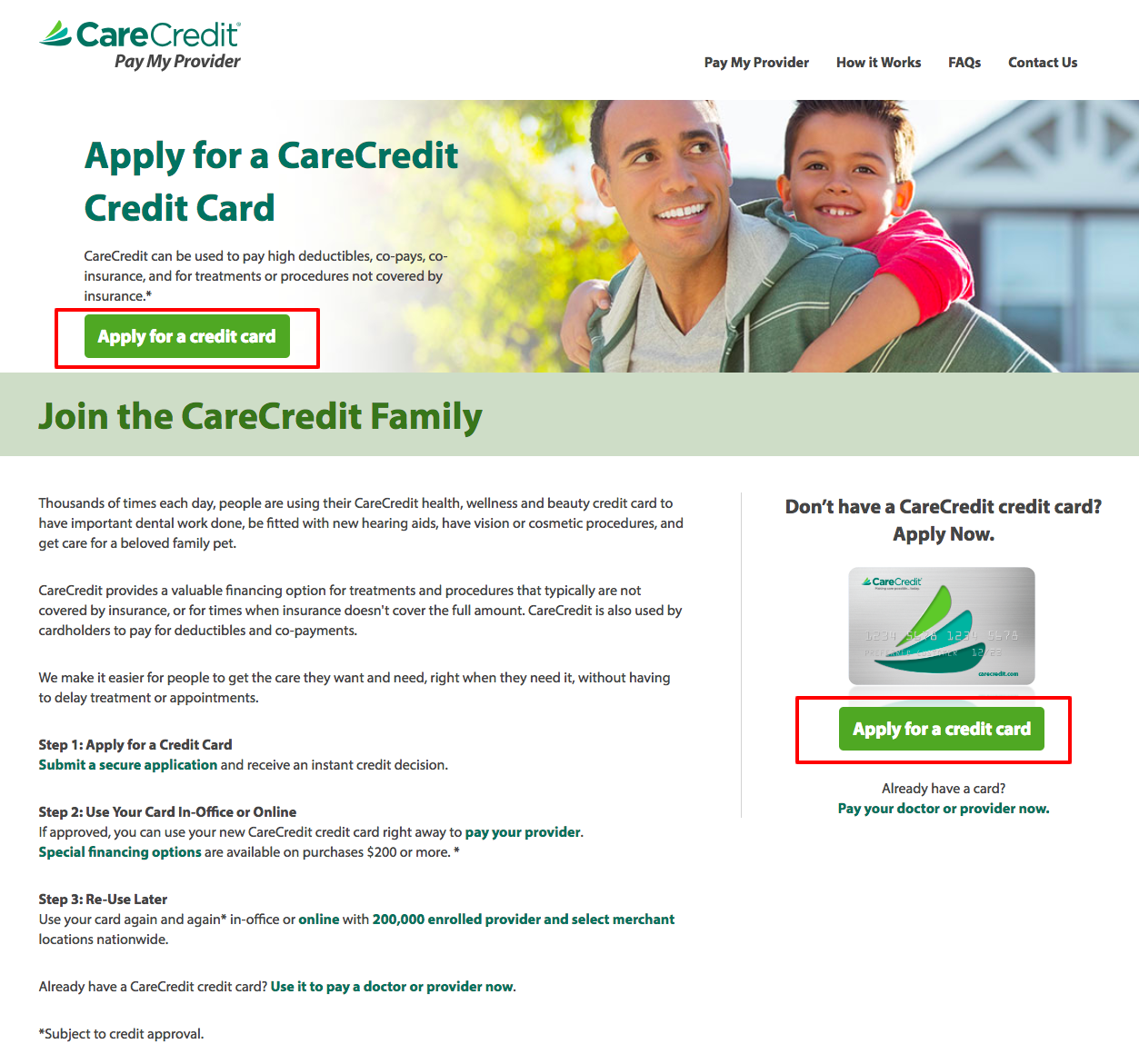 To begin the online application, visit www.carecredit.com/paymyprovider/apply-for-carecredit-credit-card/. Entering the CareCredit Credit Card Application site, click the green "Apply for a credit card" and you will be redirected to a secure application portal where you have to provide the following information to complete the process.
First Name
Middle Initial
Last Name
Suffix
Street Address
Apt Number
Zip Code
City
State
Housing (rent, own or other)
Primary Phone Number and its type
Alternate Phone Number and the type
Email Address
SSN or ITIN
Date of Birth
Annual Net Income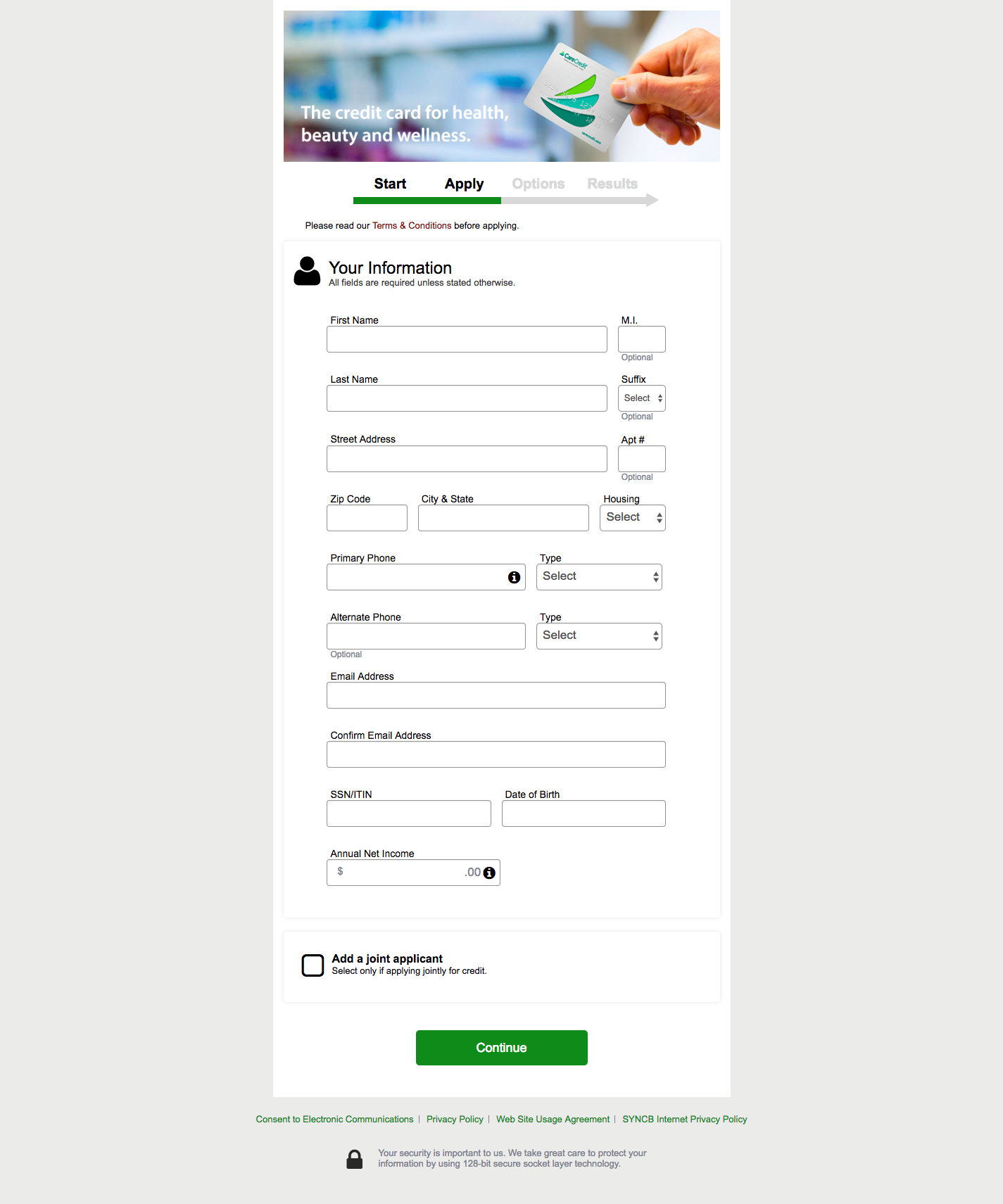 After that, you can add a joint applicant by checking the box provided on the page and entering all of the above-mentioned details of that person. An additional card will be issued for the person if you are approved for a CareCredit Rewards Mastercard.
Once you are done with all the steps, submit the application and you will receive an instant credit decision without having a delay.
You can also opt for applying over the phone by calling the toll-free number, (800) 677-0718. The procedure can be done with an automated system that is available 24/7 or you can call between 9 am to 9 pm from Monday to Friday, EST to speak with a live agent. Before dialing the number, make sure you have written or printed copy of CareCredit Credit Card Agreement.
CareCredit Rewards Mastercard Credit Card Rewards and Benefits
Earn 2 Rewards Points for every $1 spent on qualifying purchases in the CareCredit Network, on health and wellness, grocery stores and pet stores through 6/30/19.
Earn 1 Rewards Points for every $1 spent on eligible purchases everywhere else Mastercard is accepted
Special promotional financing on purchases of $200 or more.
Use the card in-office or online with 200,000 enrolled provider and select merchant location nationwide
No limitation of earning points that can be redeemed for rewards in the form of statement credits, gift cards, merchandise and for travel.
Receive the Mastercard benefits that include one-year extended warranty, ID Theft Protection, and Theft Alerts, Price Protection etc.
No expiry date as long as you are in good standing and have available credit
Rates, Fees and Charges
No Annual Fee
Standard Purchases APR- 26.99%
Late Payment Fees- up to 38
Minimum Interest Charge- $2
The first billing statement will be received within 30 days of making a purchase using the card.
Contact Information:
Customer Service Number (866) 748-1585
Reference: 
www.carecredit.com/paymyprovider/apply-for-carecredit-credit-card/