www.getmydisneyvisa.com – Apply for Disney Rewards Visa Credit Card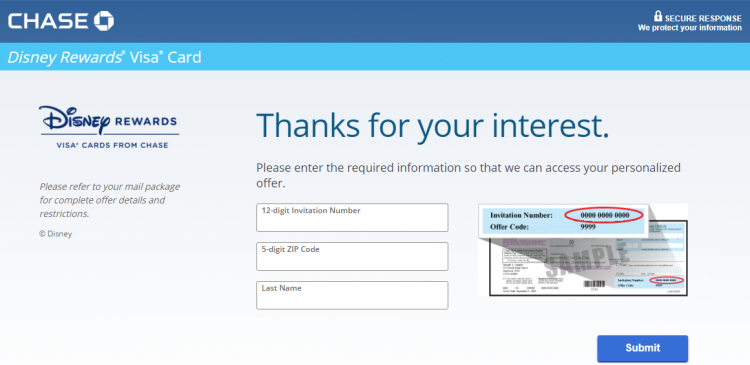 Chase Disney Rewards Visa Credit Card
The people, who have received an invitation mail from Chase to apply for a new Disney Rewards Visa Credit Card, can do that online at http://www.getmydisneyvisa.com. The personalized invitation offer contains a unique invitation number, through which the applicant can apply for any of two cards- Disney Visa Card and Disney Premier Visa Card. The cards are best for those who are interested in earning more Disney Rewards Dollars and discounts on their purchases.
Apply for Disney Rewards Visa Credit Card
The eligible invitation mail recipient can complete the application process of Disney Rewards Visa Card online. This is the most convenient, secure and fastest way to apply and get an instant decision within few seconds after submitting the application.
Go to the Chase Disney Rewards Visa Card invitation page at www.getmydisneyvisa.com
Enter the 12-digit Invitation Number from your offer letter that you have received in your mail package.
Enter the 5-digit zip code and your last name.
Click the "Submit" button to begin your application process.
After that, you will be redirected to the application page. Entering the page, first, you have to select your card design. There are 10 unique card designs, choose any of them as per your wish. Then provide some of your personal details such as
First Name
Middle Initial
Last Name
Suffix
Mailing Address
Unit/Apt.
City
State
Zip Code
Click "Next" and enter the financial part and after that security section. Complete all the fields carefully providing the necessary information; review and submit.
Upon completion, wait a couple of minutes for processing your application and after that, you will receive the decision on your credit acceptance and denial. If approved, you will be notified about your credit limit amount.
Disney Visa Credit Card offers
Receive $50 Statement Credit after first purchase using the new Disney Visa Card
Earn 1% Disney Reward Dollars on all card purchases.
10% discount on select dining locations at Disneyland and Walt Disney Walt resorts
Exclusive photo opportunities with Disney and Star Wars characters
10% off on select Disney and Star Wars purchases
Access to exclusive events at Disney store
No Annual Fees
Disney Premier Visa Credit Card offers and features
Receive $200 Statement Credit after spending $500 on purchases within first 3 months of account opening using the new Disney Premier Visa Card
Earn 2% Disney Reward Dollars on card purchases at gas stations, grocery stores, restaurants, and most Disney locations and 1% on all other card purchases.
10% discount of select merchandise purchases of $50 or more at select locations and select dining locations at Disneyland and Walt Disney Walt resorts
Redeem reward dollars as a statement credit toward airline travel
$49 Annual Fee
Important Notes
To apply for the Chase Disney Rewards Visa Credit Card, you must have a valid permanent home address within 50 United States or the District of Columbia.
All the product offers are not available for the current cardholders or the previous cardholders who have received new card members bonus within the last 24 months.
No limitation of earning and no block-out dates of redeeming the Disney Reward Dollars.
You can redeem your Reward Dollars at most Disney locations like theme park tickets, resorts, shopping, eating etc.
Sorcerer Mickey, Mickey & Pals, Tink, Spotlight, Frozen, Diamond Celebration, Darth Vader, Yoda, Pixie Dust and BB-8 are the 10 card design from which you have to choose Disney Rewards Visa Credit Card.
References