www.tcfcreditcard.com – TCF Credit Card Mail Offer- Apply Online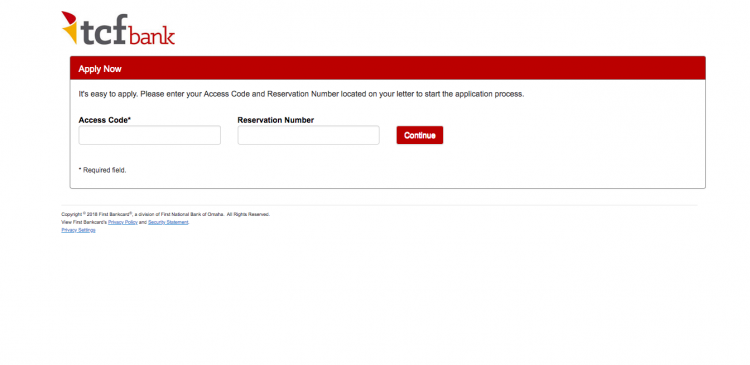 TCF Credit Card Mail Offer- Apply Online
The consumers, who have received an invitation to apply for a TCF Credit Card by mail, can respond to the offer and complete the application online.  TCF Credit Personal Visa Credit Card helps the users on their way. It can be used for planning a vacation, making a big purchase or shop with low introductory rate, or it can start fresh by building or rebuilding credit and more.
The TCF Visa Credit Cards are issued by First Bankcard, a division of First National Bank of Omaha, pursuant to a license from VISA U.S.A. Inc.
TCF Credit Card Online Application
Apply for a credit card with a special mail offer online, is the easiest, fastest and hassle-free process of applying. To start the application process, keep your mail-piece handy and follow the steps right below.
Visit www.tcfcreditcard.com
Enter the 6-digit Access Code and 8-digit Reservation Number in their respective fields of the page. The unique codes associated with your special mail offer can be located on your mailing.
Click "Continue" to enter the application. To process the application, you need to enter the following pieces of information.
Contact Information
Full Name
Physical Address (not a PO box)
Apt
City
State
Zip code
Phone Number
Email Address
Personal Identification
Date of Birth
Social Security Number
Mother's Maiden Name
Housing Information
Years at Address
Housing Status
Monthly Housing Payment
Financial Information
Present Employer
Business Phone Number
Total Annual Income
Checking, Savings and Investment Account
And authorized User's required details
TCF Credit Card Features
There are 3 types of TCF Personal Visa Credit Cards available for the consumers. Each of them is used for different purpose, benefits, and features.
TCF Complete Rewards Visa Credit Card Highlights
Appropriate for earning rewards for spending
Earn 1 point per $1 spent on net purchases
Earn 2500 bonus points after making a purchase in the first 3 billing cycles
0% introductory APR for the first 6 billing cycles on purchases and balance transfers
Redeem points for cash back as a statement credit, gift cards, and merchandise
No Annual Fee
TCF Platinum Edition Visa Credit Card Highlights
Shop smart and safe with this low introductory rate credit card
No Annual Fee
$25 statement credit for making purchases within the first 3 billing cycles
0% introductory APR for the first 12 billing cycles on balance transfers
3% introductory balance transfer fee for the first 12 billing cycle after that 5% for each amount
TCF Secured Visa Credit Card Highlights
Best to start fresh by building or rebuilding credit
Request your own credit limit by providing a single deposit between $300 and $5000 at the time of application
Annual Fee $35
Contact Information
Those, who are trying to reach TCF, call 800-823-2265 and for having hearing problem dial 800-343-6145 to receive assistance over the phone.
TCF National Bank Mailing Address:
1405 Xenium Lane North, Plymouth, MN 55441
References: