www.serve.com/jacksonhewitt – Jackson Hewitt Serve Card
American Express Serve Prepaid Card with Jackson Hewitt
Jackson Hewitt Tax Service offers their customers American Express Reloadable Prepaid Card to get fast and reliable access to tax refunds and manage their money in a smart way. The Service and Card are provided and issued by American Express Travel Related Service Company.
Currently, there are two types of prepaid cards: Amex Serve Card and Amex Early Access Card are being offered. The Jackson Hewitt customers can get the temporary card by visiting Jackson Hewitt office and selecting any of them as per their choice. Later, they need to convert the card to a personalized one to access the full features and benefits of their respective prepaid card.
Jackson Hewitt Amex Prepaid Card Benefits
After getting the personalized and permanent card, the cardholders can enjoy a number of advantages from their American Express Reloadable Prepaid Card such as:
American Express Serve Personalized Card
Make Purchase anywhere Amex Cards are accepted (Available in Temporary Card)
Free ATM withdrawals at more than 24000 MoneyPass ATMs nationwide (Available in Temporary Card also)
Purchase Protection
Free Direct Deposit
Load IRS tax refunds for free
Free Online Bill Pay
Mobile Check Capture By Ingo Money
Cash Pickup Powered Up by Ria
Save Money Transfer Powered Up by Ria
Send And Receive Money
Mobile App
Amex Offers
Fraud Protection
FDIC Insurance
Subaccounts
Set Aside Money in Reserve
Roadside Assistance Financial Management Tools
Financial Management Tools
Customer Service 24/7
American Express Early Access Permanent Card
The Amex Serve Permanent Early Access Cardmembers will enjoy all the benefits of American Express Serve along with some additional features like Early Access Line of Credit by Republic Bank, Early Direct Deposit etc.
Fees and Charges
No minimum balance
No hidden fees
Monthly Fee- $5 (no fee in NY, TX, and VT)
Cash Reload- up to 3.95 (varies by retailer)
ATM Withdrawals- $0 at MoneyPass ATMs and $3.50 at non-MoneyPass ATMs excluding ATM operator fees
Foreign Transaction- 2.7% of each transaction
Participation fee of $15 for the Early Access Line of Credit will be separately charged by Republic Bank.
American Express Serve Online Account Registration
To register for an Amex Serve Account and set up the required login credentials for that online account, you can follow the steps provided below. You can do it prior to or before receiving your temporary Amex Serve Prepaid Card with Jackson Hewitt.
Click the blue "Log In" button at the top right corner of the webpage.
Click the "Create an Account" link next to 'Not a member' below the login tab and you will be navigated to your desired page.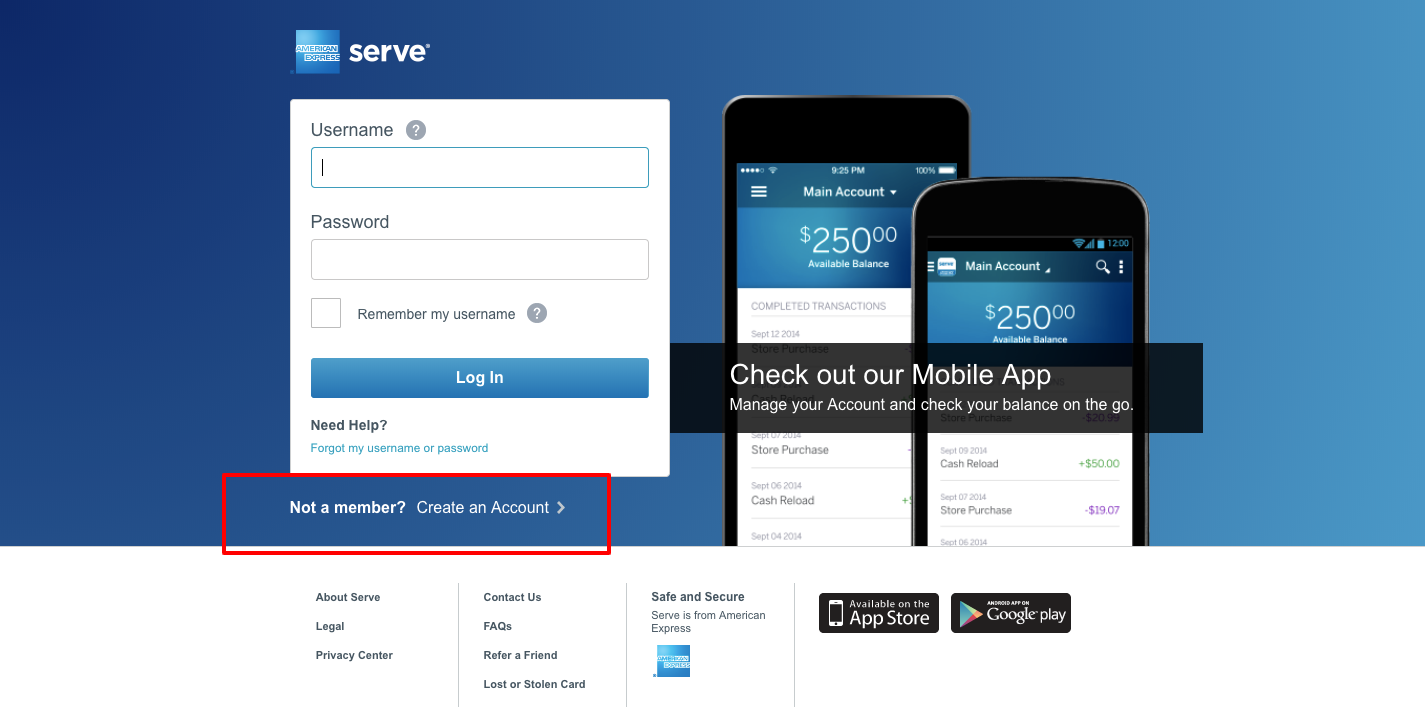 Here, you have two options. If you will receive a Temporary Amex Serve Prepaid Card from Jackson Hewitt tax preparer and want to convert it into the Permanent one, you need to select "Yes" and provide the two pieces of information, mentioned below, to proceed to the next steps and set up your online account set-up and create your login info.
15 Digit Card Number
4 Digit Security Code
And if you have not yet received any card to be registered with, select the second option "No" and enter the following information for American Express Serve Online Account Registration.
First Name
Last Name
Email Address
Address: ZIP; Street Address; Apt, Suite, Floor; City; State
Phone Type: Home, Mobile, Work, or Other
Create your Username (Must be 5-20 characters long with no space, no symbol, and at least 1 letter)
Create Password (Minimum 8 characters long including at least 1 number, 1 uppercase, 1 lowercase, and no symbol)
Date of Birth (MM/DD/YY format)
Full 9 digits Social Security Number
Create your 4-digit ATM PIN
Renter again to confirm the PIN
Choose your account security question (Mother's Name, first car, pet's name, favorite food, best friend, favorite actor are the available options to select).
Set the answer.
Review all the information and necessary details, disclosure once again; check the box to confirm that you agree to the Serve terms and conditions and click the "Agree and Submit" button when you are done.
Activate your American Express Serve Personalized Card
Those, who received their Amex Serve Card or Early Access Card personalized card in the mail, can activate it online.
To activate, visit Jackson Hewitt American Express Serve site www.serve.com/jacksonhewitt
Click "Have a Card Already?" located at the top right part of the page and you will be navigated to that section.
Scroll down to find the "Activate Now" link at the bottom of the section; click on it.
Enter the username and password that you created during registration.
Click the "Continue" button to proceed.
Follow the on-screen instruction and provide the required details to activate your card. Once you complete the activation procedure, you will be able to start using your card right away.
Log into Amex Serve Online Account
To access your American Express Serve and Early Access Online Account, you just need some simple and easy steps as mentioned below to follow.
Go to the same site as referred above www.serve.com/jacksonhewitt
Click the blue "Log In" button at the top right corner of the webpage.
Entering the Login page, type your Amex Serve Account Username and Password in their respective blank fields.
Check the "Remember my username" box to save your Username on the device you are using and quicken the later login process. (Should avoid if you are not on your personal device)
Click the "Log In" button.
Login Assistance
Have forgotten account login info and need help? Click the "Forgot my username or password" link from the bottom of the Login tab and provide the following details to confirm your identity and begin the recovery process.
Your 15-digit American Express Serve and Early Access Prepaid Card
And 4 digits Card Security Code
Online Account Access Features
Upon entering their online account, the users can access all the features of the Amex Online services like
Create a subaccount to let another person access your account
Update your personal information
Report a lost or stolen card
Insights (A set of tools for track spending, set spending alerts, create budgets and track your financial goals)
Move funds into 'Reserve' for large purchase or vacation
Check account balance, transaction and statement
Dispute a transaction
Set up email and text alerts and lots more
American Express Serve Customer Service:
For any question regarding American Express Serve and Early Access, call the customer assistance at 1-855-431-6040, available 24/7.
Or, you can write to the following mailing address:
Serve Customer Care
P.O. Box 826
Fortson, GA 31808
Reference: