www.exceedcard.com – Apply for Walmart Money Network Exceed Card
Walmart Money Network Exceed Card
Walmart Money Network's Exceed Card is offered to the Walmart employees to get their wages and conveniently with more savings, benefits, and security. The users can also access the card account online and through the Money Network Mobile app to manage the funds on their Exceed Card 24/7.
The Exceed Card is a prepaid debit card by Money Network and exclusively for Walmart associates. The card is issued by MetaBank pursuant to a license by Mastercard International Incorporated.
Walmart Money Network Exceed Card Features and Benefits
The Exceed Prepaid Debit Card comes with a number of benefits and useful features for the Walmart employees such as:
Get paid fast and easily and can use it immediately. Wages are directly deposited into your account per payday so there is no need to come into the store and pick up a check.
Can withdraw up to 100% of your wages and making a purchase to withdraw cash is not required
Withdraw cash for free at any Walmart or Sam's Club checkout register. No need to take out a large amount; access the cash what you need.
Use your Exceed card instead of cash to make in-store, gas station, online or phone purchases everywhere Debit Mastercard is accepted.
Get cash back on purchases at any participating merchants
The funds on the Exceed card are FDIC insured upon ID verification. Chip technology and Mastercard zero liability provide more security.
No start-up or monthly fees and also no interest charges or overdraft fees to be paid with the card.
Purchases are limited to the available account balance on your Exceed card to help you match your spending with the earning.
The first ATM transaction per day period is free although an extra charge may be applied by the ATM owner or operator.
Sign up for Walmart Money Network's Exceed Card online account and use the tools to manage your funds more conveniently.
Access Money Network Check
For times when you don't prefer or are not able to use your Walmart Exceed Card, you can opt for Money Network Check. Money Network Check is easy to use and free and also benefitted in many ways like
Write as many as you want to withdraw money from your account at any time; there is no charge to use them
Use the checks multipurpose such as to write to yourself, another individual or to pay the bills (utilities, credit card, phone bills etc.)
Can write a Money Network Check to yourself and cash it for free at any Walmart or Sam's Club checkout register. Don't forget to activate the check before withdrawing the cash.
Request more Money Network Checks when they are running out at no additional cost; you also can make a request through your HR manager.
Use Money Network Locator for additional check cashing locations.
Apply for a Walmart Money Network's Exceed Card
The Walmart associates can apply for a Money Network Exceed Card with or without a promo code. The employees, who got an invitation to get a card, also received a unique promotional code in the letter. It can be used to start the application procedure.
However, the Walmart employees having no such code can also apply for the Exceed Mastercard Prepaid Debit Card. To begin the application, keep your Walmart Employment details ready and follow the steps provided below:
Visit Walmart Money Network's Exceed Card official website at www.exceedcard.com
Enter the 'Promo Code' if available and click the "Go" button
If you don't have the code, click directly "GET EXCEED CARD NOW" link and you will be prompted to the Employment Verification page.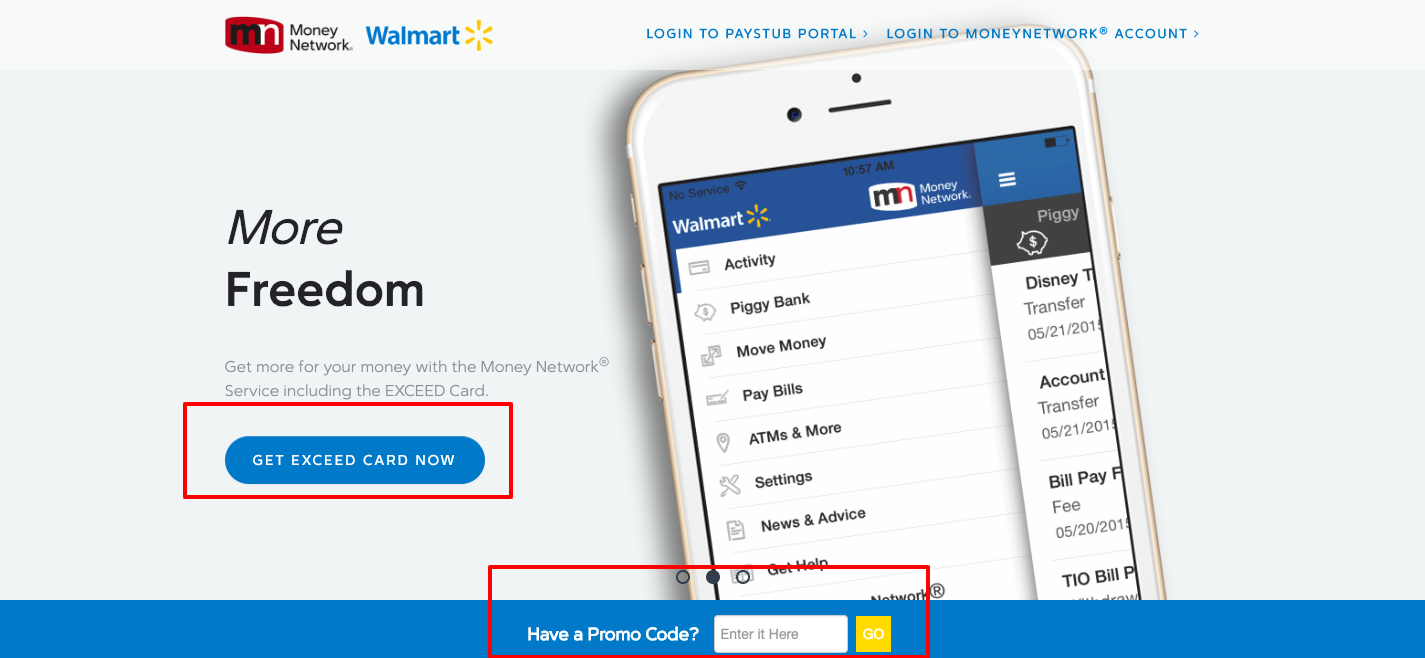 Enter your 9-digit Walmart Identification Number (WIN) in the first field and then your Date of Birth in MM/DD/YY format
Then input your First Name and Last Name in their respective fields. Make sure, the name you have entered exactly matches the name you have on file with your employer.
Click the green "Verify" button to proceed
By moving forward, you agree to allow Money Network your employment with Walmart. Provide the required information you will be asked for the enrollment to get your Walmart Money Network Exceed Card.
Access your Walmart Money Network Exceed Card Account Online
Signing up for Walmart Money Network Exceed Card Online Account, the card member can take all the advantages of this free service such as:
Check your Exceed account balance and transaction history anytime anywhere
View the account statement
Pay the bills electronically
Transfer funds from your account to a bank account
Set aside money using 'Piggy Bank' feature (available only mobile app)
Request for a secondary card and sent money to it and more
Sign into Walmart Money Network Paystub Portal
To log in the Walmart Money Network Paystub Portal and access your paystub info, you need to visit www.exceedcard.com and click the "LOGIN TO PAYSTUB PORTAL" on the top middle of the page or go this link www.paystubportal.com
Registration
If you are using the site for the first time and do not have a PIN, click the red "Register Now" link under the "Login" and submit the following information for the registration.
Birthdate (MM/DD/YY)
9-digit WIN (Walmart Identification Number)
And Facility Number
Those, who don't know their Walmart ID or Hire Date, need to contact their personnel Office for assistance.
Log In to www.paystubportal.com
After you have registered, go to the same site as mentioned above and log in to the Walmart Money Network Paystub Portal providing your
Birthdate (MM/DD/YY)
9-digit Walmart ID Number
Facility Number
And 4-digit PIN that you set via phone or the FD-300
Forgot PIN
The Walmart Money Network's Exceed Cardholder, who have forgotten their card PIN, are required to enter the same information as they provide in the time of registration.
Log into Money Network Account
The users can also access the Money Network's account with Walmart Exceed Card, for that you may go to www.exceedcard.com and click the "LOGIN TO MONEY NETWORK" and you will be redirected to the Walmart Money Network Portal  www.walmart.everywherepaycard.com to access your online account or activate your service.
Contact Information
If your Exceed card is lost or stolen or if you need any assistance regarding the card and the service, you can call the Walmart Money Network's Exceed Card Customer Service Number: 1-800-903-4698
Reference:
www.walmart.everywherepaycard.com