www.bankofamerica.com/mynewcard – Apply For Bank Of America My New Card Online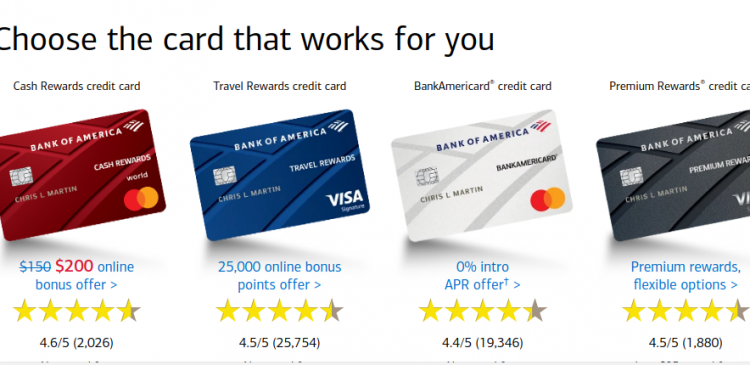 Bank of America My New Card Application
Bank of America provides the customers with My New Card secure site to accept the preselected offer they received in the mail with their personal security code for a faster and more convenient way and take the first step to establish, strengthen or rebuild their credit. The credit card program is issued and administered by Bank of America, N.A, and the web portal is dedicated to responding the official Bank of America Credit Card Offer and complete the application day and night anytime anywhere.
How to Respond to the Bank of America Pre-Qualified Offer Online
My New Card web portal is only accessible for the recipients of Pre-Qualified Mail Offer to apply for a Bank of America Credit Card. So, if you are a pre-selected member you can respond to the offer letter and complete the application of that specific Bank of America Credit Card for which you got the invitation over the internet.
To initiate the procedure, have your official Bank of America Credit Card Mail Offer letter that you received in the mail ready and follow the steps listed below:
Visit BOI My New Card Respond to Mail Offer Portal at www.bankofamerica.com/mynewcard

Enter the Personal Secure Code and Zip Code from the request form you received by mail in their respective fields located on the left-hand side of the page.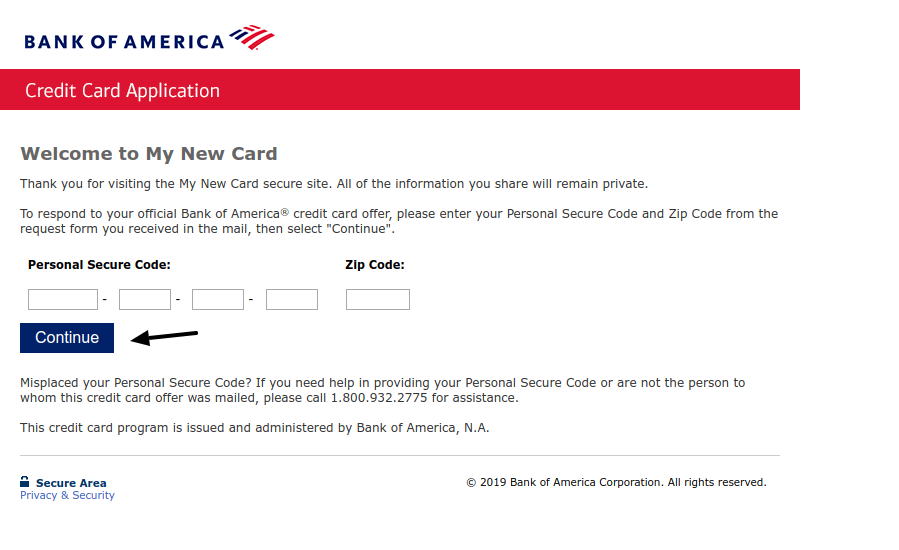 Click on the blue "Continue" button to proceed.
Complete all the requested information and submit the request form online. Your application will be processed and you will get a response in usually 10 to 14 business days.
If you misplaced your Personal Secure Code or need any help providing the number or if you are not the individual to whom the Bank of America My New Card offer letter was addressed, call the customer service for assistance.
Note that, if you have already completed and mailed the request form that you received attached with the My New Card Mail Offer letter, you do not need to complete the online application again.
How to Get Customized Credit Card Offers from Bank of America
Those, who have not received any Mail Offer and do not have any exclusive Personal Secure Code to submit the request for a Bank of America Credit Card application, may also get their customized offers from Bank of America. This is not a credit card application and the search will not affect your credit score.
To check for Bank of America Credit Card Customized Offers, you may visit, Bank Of America Customized Offer. There you can sign in to your BOI Online Banking Account with the registered Online ID and Passcode and go straight to your customized credit card offers or continue as a guest without signing in.
In that case, you can start the procedure by selecting what kind of credit card you are interested in among Cash Rewards, Travel Rewards, Lower Rate, Build or Rebuild credit, Points Rewards. You may also choose the "I don't have a preference" option and decide later. To move forward as a guest consumer, you will need to provide a little about yourself like your
First Name

Last Name

Date of Birth

And Social Security Number
How to Apply for Bank of America Credit Card Online without Mail Offer
If you do not receive any My New Card mail offer from Bank of America, you may complete the application for one of the cards suits best for your work and get a response in as little as 60 seconds.
For the online application of a personal Bank of America Credit Card, you can visit the official BOI Credit Card page, www.bankofamerica.com/credit-cards and see which card is perfect for you. Click on the "Apply Now" button found under your choose Card. Now if you already a Bank of America customer and have an online account, sign in to it and save time when applying as some basic information about you has already been in their record; you have just input a few complete to the application. If you are not, you are required to provide the following pieces of information to start the procedure.
First Name

Middle Initial

Last Name

Suffix

Residential Address

City

State

Zip Code

Phone Number

Email Address

Social Security Number (If you are a US citizen)

Citizenship Status

Country of dual citizenship if you have one

Country of Residence

Date of Birth

Employment Status

Total Annual Income

Primary Source of Income

Monthly housing payment
Select your card option and review important information about balance transfers, amounts, and fees. Add a cardholder entering all the required details if you want; check the terms and conditions attentively and tick the checkbox. Then you can "Save and Continue" to complete the full or click on the "Save and exit application" to do the rest later.
How to Check Bank of America Credit Card Application Status
If you have submitted an application for a Bank of America Credit Card and it is still in processing, you can check the status of that submitted application online. To do it, go to the BOI Credit Card Application Status page at Bank of America Application Status . Enter the information listed below just as it appeared on your credit card application for the security purpose and help BOI verify that you are the applicant.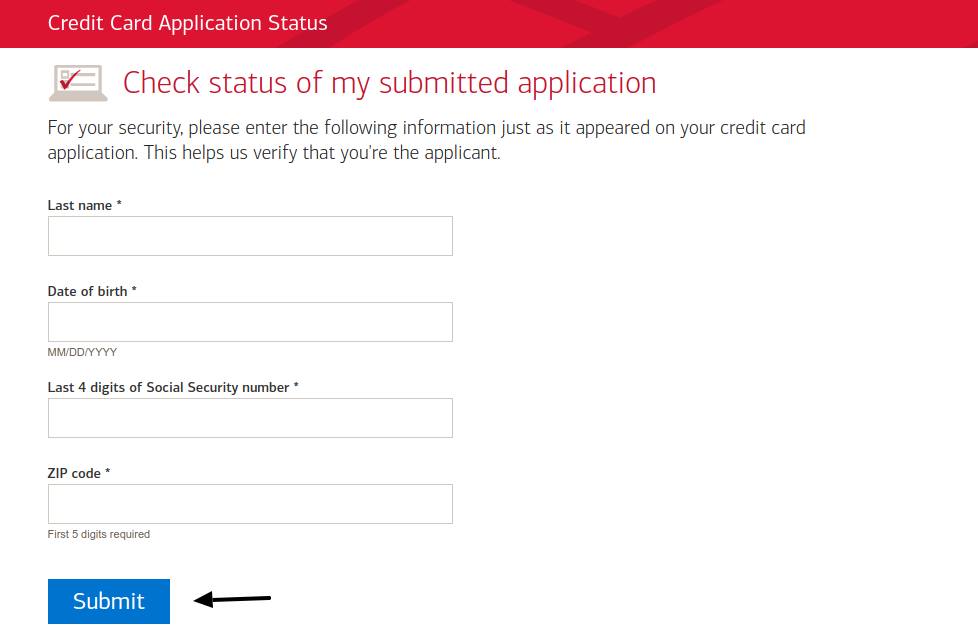 Last Name

Date of Birth

Last 4 digit of Social Security Number

5-digits Zip Code
Also Read : Total Rewards Visa RSVP Offer Check Online
Contact Information
Bank of America My New Card Customer Service Number: 1-800-932-2775
Bank of America General Credit Card Customer Service Number: 1-800-732-9194
Bank of America Credit Card Application Inquiries Mailing Address
Bank of America
PO Box 2493
North folk, VA 23501-2493
Reference :
www.bankofamerica.com/mynewcard