Apply American Express Gold Card with RSVP Code
Amex Gold Card Apply for your Special Card offer at Amex.us/goldsvp
American Express offers the consumers to apply for the Amex Gold Card online and get a decision as little as 30 seconds safely and securely. If approved, they are automatically entered into the Membership Rewards Program as well as enjoy all other benefits and Amex rewards offer to shop and dine. travel and more. Plus, the cardholders also access their Gold Card account and manage it over the web from anywhere at any time across the world.
American Express Gold Card Benefits and Features
With an Amex Credit Card, you can take advantage of a number of New Card Member Offer along with other featured benefits such as
60,000 Membership Rewards Points after you spend $4000 on purchases in the first 3 months of account opening

4X Membership Rewards Points on dining at restaurants worldwide

Up to $10 in statement credits and annual savings of $120 in dining credit at Grubhub, Seamless, The Cheesecake Factory, Ruth's Chris Steak House, Boxed, and participating Shake Shack locations.

4X Membership Rewards Points on purchases at supermarkets in the US up to $25,000 in a calendar year

3X Membership Rewards Points on flight booking at amextravel.com or directly with airlines

Use Membership Rewards Points for all or part of booking trip on amextravel.com

Up to $100 in statement credits on one qualifying airline when incidental fees are charged

No Foreign Transaction fee for making purchases outside the US

$100 hotel credit to spend on qualifying dining, spa, and resort activities on booking the Hotel Collection with American Express Travel and staying at least 2 consecutive nights.

Payment flexibility to control over the amount you pay like you can carry a balance with interest on eligible charges of $100 or more

Global Assist Hotline to travel more than 100 miles from your home

Enrollment the Travel Collection by Travel Leaders Group at no additional cost

Personalized travel service, baggage insurance plan, car rental loss, and damage insurance

Free 2-day shipping on eligible items at 100 plus online stores with ShopRunner

Entertainment and preferred seating access

Year-end summary to review your annual spending

Additional card for anyone above the age of 13

Manage your Gold card account from American Express App or Online Account Center and 24/7 Cardmember Service and many more
Amex Gold Card Rates &Fees
Pay Over Time Feature APR: 17.49% to 24.49%

Cash Advance APR: 26.74%

Penalty APR: 29.99%

Annual Fee: $250

Foreign Transaction Fee: None

Cash Advance Fee: $10 or 5% of each amount

Late Payment Fee: Up to $39

Returned Payment Fee: Up to $39
How to Apply for Amex Gold Card with 14-character RSVP code from your Invitation
To apply for Amex Gold Card with your RSVP invitation code go to www.amex.us/goldsvp
Enter your RSVP code, and Zip code, and click the Continue button to process further
A 14-character RSVP code, one letter, and 13 digits unique code to be used to respond to your special mail offer. You can find it in your mail application.
How to Apply for an American Express Gold Card Without RSVP code
To apply for an American Express Gold Credit Card online, you will need to have some pieces of information such as your SSN, a valid email address and a phone number, the full name of the one you want to add to your card account as an additional cardholder in addition to our name and residence details at ready. After that, you can begin your Amex Gold Card online application in a few simple and easy steps like
Enter some of your Personal Information i.e. Full Name, Name on Card, Email Address, Date of Birth, Phone Number, and

Provide your citizenship information

Enter the contact details i.e. Residential Address (No PO Box or CMRA), Suite or Apartment, Email Address, and Social Security Number.

Provide the amount of your Total Annual Income, Non-Taxable Annual Income and choose your income source.

Click the "Continue" button to complete and submit your application.
Note that, if you are applying for a special offer through an email or online promotion, you must apply through that specific link provided in the solicitation or website to receive the exclusive bonus offer available to you.
How to Check American Express Gold Card Application Status
Upon submission of your Amex Gold Credit Card online application, you can receive a decision in as little as a minute or less. But sometimes it takes time to gather additional information to make the decision. In that case, where your application cannot be evaluated instantly, you can use the steps provided below to view your application status.
Go to the American Express Credit Card Online Status Site at amex.us/myappstatus or www.americanexpress.com/myappstatus

Enter your Social Security Number and Home Zip Code in their respective fields on the Status Check Authentication page.

Click on the "Check Application" button.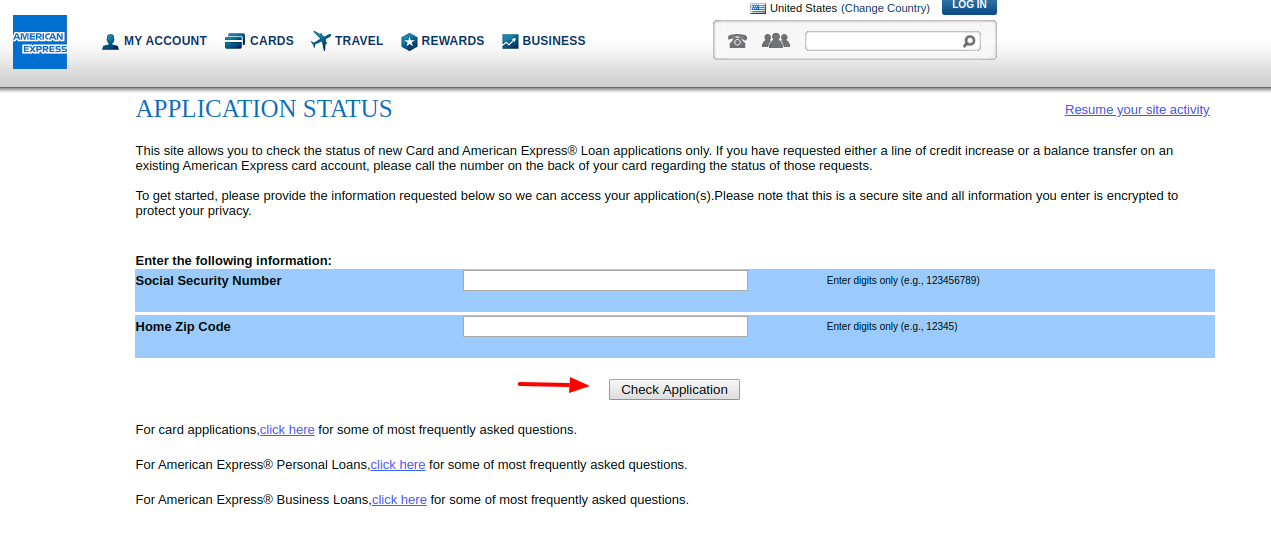 You may also call at 1-888-826-3471 to check the status of your American Express Gold Card application by phone.
How to Set Up New Amex Gold Card Online Account
If approved, you will receive your American Express Gold Credit Card by mail within 7 to 10 business days. Then, you can activate your new card and set up an online account to manage your Gold card virtually from anywhere and take all the benefits of the Amex online service like bill paying, view transactions, track membership rewards, set alerts, monitor account activity and many more. To confirm and set up your new Amex Gold Card, you can
Entering the login portal, click on the  "Create New Online Account" link at the bottom of the 'Sign-In' area.

Insert the 15-digit Card Number and 4-digit Card ID in their fields on the page. To find the location of those required details on your Gold card, see at the example provided right to the entry fields.

Click the "Confirm" button to create the required login credentials for your American Express Gold Credit Card Online Account.
How to Log in to American Express Gold Card Online Account?
American Express Gold Credit Card Online Account is accessible 24/7 on the internet. The registered users can log into it at any time they wish and utilize all the features and services available to them. To log in, you can
Click on the "Log In" link at the top right of the page.

Enter the User ID and Password associated with your Gold Card Online Account in their fields.

Select the account type, 'Membership Rewards'.

Check the "Remember Me" box to store the info on the device to speed up the login process next time. Do not use the feature if you are on a public or shared device

Click the "Log In" button.
Once entered, unlock the Membership you are offered by American Express, discover nearby apps, explore rewards, get alerts for fraudulent activities, and many more with your American Express Gold Credit Card Online Account.
How to Recover American Express Gold Card Online Account Login Info?
Do not remember your American Express Gold Card Online Account login credentials? You can retrieve or reset the info and obtain your account access again. To start the recovery procedure, you will need to click the "Forgot User ID or Password" link below the 'Login' button; select "Forgot User ID" or "Forgot Password" from the top based on your requirement and submit your
15-digit Card Number and

4-digit Card ID or CID
Click on the "Continue" button to verify your identity and complete the rest to view your username or change the password.
Contact Information
American Express Personal Card Customer Service Number: 1-800-528-4800
To apply over the phone, call at 1-800-243-3888
Mailing Address for General Inquiries
American Express
PO Box 981535
El Paso, TX 79998-1535
Reference :
www.americanexpress.com/us/credit-cards/card/gold-card