www.totalcardvisa.com – Apply for Total Visa Credit Card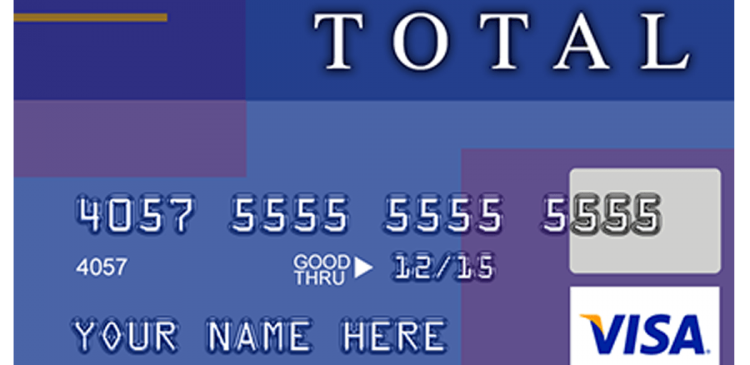 Total Visa Credit Card Online Application & Account Login
Total Visa Credit Card is offered to the people having a fair, poor or credited limit and being interested to have a genuine Visa credit card. Both customers with or without pre-screened offer can apply for the card online and get an instant response in seconds.
As the TOTAL card does not require perfect credit to approval it is appropriate for those who have faced financial challenges and struggled to get credit in the past. The issuer of the Total Visa Credit Card is the Bank of Missouri pursuant to a license from a Visa USA Inc.
Features and Benefits of Total Visa Credit Card
There are a number of features and benefits available that you can access with a Total Visa Credit Card such as
Quick and easy secure online application
Not required perfect credit to be approved
Get a quick response in as little as 60 seconds after the application is processed
Make and manage monthly payments easily online
Monthly reports to all three major credit bureaus
Accepted by merchants online and throughout the nation
Rates, Charges, and Fees
APR for purchases and cash advances: 34.99%
Minimum Interest Charge: $0.50
Program Fee (one-time): $89
Annual Fee: $75 for the first year, after that $48 per year
Monthly Servicing Fee: $0 (introductory) for the first year, after that $75 per year
Cash Advance Fee: $0 (introductory) for the first year, then $5 or 5% of each amount, whichever is greater
Late Payment Fee: Up to $39
Returned Payment Fee: Up to $39
Requirements to Get a Total Visa Credit Card
To open a Total Visa Credit Card account you will need to have the eligibility and some certain requirements to fulfill
You must be a legal resident of the United States
You must be over the age of 18
And you must have a checking account
How to Apply for Total Visa Credit Card Online
The consumers, who received preapproval invitation letter with an exclusive reservation code in the mail as well as the people having no such mail offer, both can apply for the Total Visa Credit Card online. Applying online is safe and secure and it takes only a few minutes to complete.
Apply with Pre-screened Mail Offer
The pre-screened offer is sent to the consumers based on the information in their credit report. But it provides no guarantee of final approval if the applicants do not meet the criteria set for the TOTAL VISA. And as a pre-screened member, you must complete the TOTAL VISA application before your pre-approval status expires in order to take advantage of the offer for being a pre-selected applicant.
To accept the pre-approved letter offer and initiate the application procedure have your invitation mailer handy, access a web browser and follow the steps provided below.
Visit www.totalcardvisa.com
Click blue "Accept Mail Offer" button at the top right corner of the homepage

Enter the 8-characters Reservation Code printed on the bottom of your offer letter. (If you cannot find the code on it, click the link posted above the field to see an example to locate the number)
Click the "Continue" button to proceed
As a pre-screened member, some of your information will be pre-filled on your online application form and it will definitely speed up the application process and save your precious time. But you need to fill out the rest.
Apply without an Offer
Have not received any invitation in the mail to apply for TOTAL VISA? No, problem. You can apply to open a TOTAL VISA Credit Card account on your own over the net. To start the online application, you can follow the guideline provided below.
Visit the Total Visa site at www.totalcardvisa.com and click the "Apply Now" button or scroll down to navigate to the application section. Or you can directly go to the Total Visa Application page that can be located at www.totalvisaapplication.com. Then enter the following information to fill out the Total Visa Application form.
First Name
Middle Initial
Last Name
Suffix
Email Address
Street Address (No PO Box)
Address Line 2 (Apt)
City
State
Zip Code
Home Phone Number
Mobile Phone Number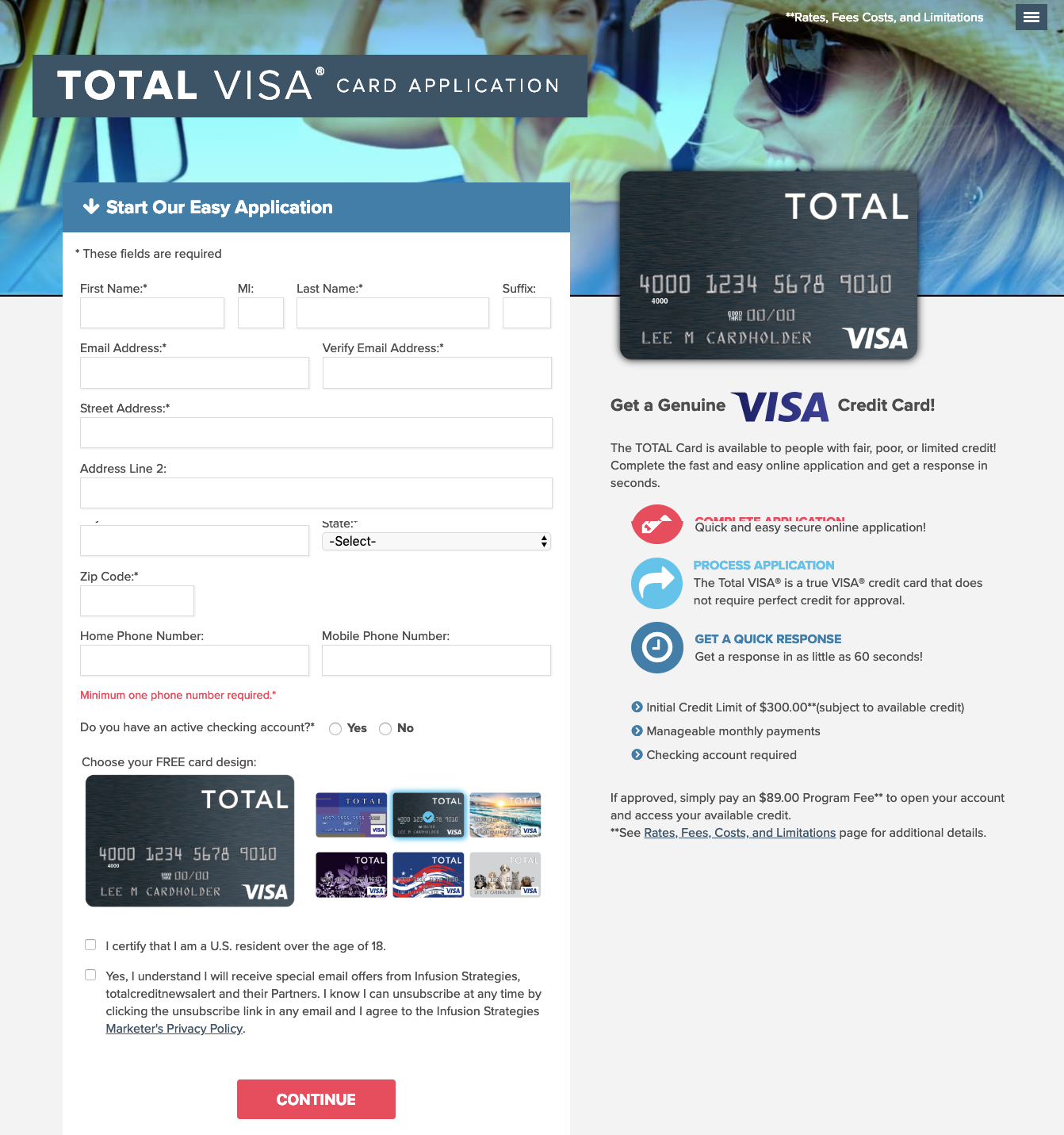 Select if you have an active checking account and choose your free Total Visa card design. Check the box to certify that you are a US resident over the age of 18. Tick the second box if you want to receive special mail offers. Click the "Continue" button to move forward.
Review the terms and conditions, follow the on-screen instruction and submit your Total Visa application to be processed and you will be responded in less than a minute.
To Pay the Program Fee & Activate Total Visa Card
If your Total Visa application is approved, you need to pay the $89 one-time program fee to open your Total Visa account and access the available credit. And when your now Total Visa Credit Card will reach via mail, you need to activate it before you start using it.
Paying the program fee or activating the card online is simple and easy. The process of both tasks is quite similar. You may follow the steps to find your approved application to pay the fee or activate your new TOTAL VISA card, whichever is applicable for you.
Visit Total Card Visa at www.totalcardvisa.com
Navigate at the top of the page and click on the blue "Pay Program Fee" or "Activate Your Card" button based on your requirement
Enter your Date of Birth (mm/dd/yyyy format)
Enter the Application ID that you were sent by email at the time of your Total Visa Credit Card application
Or, you can enter the email address you used in your Total Visa application if you have difficulties to find the ID
Click the "Submit" button to search for your application.
Follow the prompts you are provided with and enter all the requested information to make payment the one-time program fee or activate your Total Visa Credit Card.
Also Read: How to Login to Your MyCCpay Account
To Register Your Total Visa Account for Online Access
To have your Total Visa Credit Card account details at your fingertips and access it anytime you need it, you will have to register your Total Visa Credit Card for Online Access and create a virtual account. For that, you can
Visit www.myccpay.com
Click the "Register" link next to 'New Here' under the login section
Enter the required information i.e. 16 digit Number from your Total Visa card without dashes, last 4 digits of your SSN, postal code and a valid email address in their respective fields
Create 8 to 50 characters long Username including letters, numbers, periods, underscores and '@' sign
Then create 8 to 17 characters long password that must contain one lower case, one upper case, one number, one non-alphanumeric character, and no space
Select the security question from the dropdown list and set the security answer that can contain letters, numbers, and spaces
Click the "Register" button when you are done
How to Login Total Visa Credit Card Online Account   
Once you are enrolled in online service, you can log into your Total Visa Credit Card Online Account anytime from anywhere. To log in
Go to www.myccpay.com
Enter the User ID and Password in their specific boxes
Click the "LOG IN" button
Entering the account, you can see the current balance, access the available credits in an instant, pay the bills online, review the transaction, manage your account 24/7.
Login Assistance
Those, who forgot their Total Visa Credit Card Online Account Log in information, need to click the applicable link posted at the bottom of the login section and submit the following information to regain their Total Visa account access.
Your 16 digit Total Visa Credit Card Number with no dashes
Last 4 digits of your Social Security Number
Postal Code (Only letters, numbers space and dash are allowed)
The User Id will be sent to the email address associated with your Total Visa card online account.
And if you are going for password resetting procedure, a temporary password will be sent to the email registered with your Total Visa account. With this temporary password, log in to your Total Visa online account and change it immediately from the menu on the right side of the screen.
Contact Information
To ask questions about your Total Visa application or pay the initial program fee, call (844) 206-4371
To check the account balance, make payments or for other general customer service inquiries, call (844) 548-9721
Postal Address
Total VISA
P.O. Box 85710
Sioux Falls, SD 57118-5710
Email Address: info@totalcardvisa.com
And if you experience difficulties regarding your Total Visa card online account, you can dial 1-888-262-2850
Reference: