Victoria Secret Credit Card Login at victoriassecret.com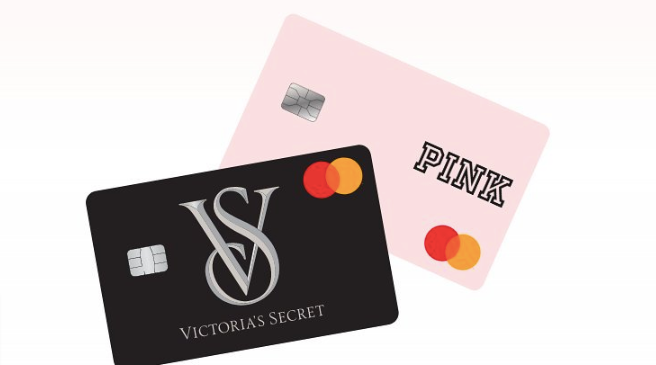 Victoria's Secret Angel Credit Card
Victoria's Secret offers their consumers Angel Credit Card to enjoy all the benefits, Angels-Only perks and special offers throughout the year for becoming an Angel. Apart from receiving rewards, extras, bonuses, and exclusives, the users can access their credit card account online anytime anywhere 24/7. Victoria Secret Credit Card and Online Card Account are issued and serviced by Comenity Bank. The rewards program is offered by Victoria's Secret. Here we will discuss Victoria Secret Credit Card Login,How to apply VS credit card,Victoria Secret Credit Card Payment and many more.
Victoria's Secret Credit Card
Two types of credit card: PINK Credit Card and Victoria's Secret Credit Card you can avail. There is no such big difference between these twos. You can get to enjoy all the same benefits regardless of what card you receive. Both can be used in catalogs, at all VS & PINK and online at Victoria's Secret website.
Victoria's Secret Angel Credit Card Benefits and Perks
Earn 2 point for $1 spent using your Victoria's Secret Angel Credit Card. And earn a reward every time you make 250 points.
Earn triple points and free shipping on bra purchases with exclusive bra benefits offers
Choose up to 3 triple point days per program year and earn triple points to all purchases made with your Angel Card on each selected day.
Angel and VIP cardholders will earn a $10 Angel Reward with every 250 points and Forever cardholders will earn a $15 Angel Reward with every 250 points
No limitation to the number of points earned in a billing cycle or year
No Annual Fee
Receive a special birthday gift on the month of your birthday month
Get exclusive offers and invites, early access to major sales and other Angel-only perks
Victoria Secret Comenity Card Rates and Fees
APR for purchases: 26.99%
Interest-free period: 25 days after the close of each billing cycle
Annual Fee: $0
Late Payment Fee: Up to $37
Returned Payment Fee: Up to $25
A Few Useful Info about VS Angel Credit Card
An active credit card to good for cardholders to earn rewards.
Unused redeemed points will carry forward over the following statement period. If the account is inactive points will expire 12 months from the date they are earned.
Angel Rewards can be redeemed in store, by phone or online. Rewards used in stores must be surrender at the time of purchase and valid in non-outlet Victoria's Secret stores inside the US.
Angel Rewards expire 90 days from the date they are issued
How to Apply for Victoria's Secret Angel Credit Card
You can apply for a Victoria's Secret Angel Credit Card online or by visiting at any of Victoria's Secret store. Before initiating the application, take a look at the requirements and eligibility you must have.
Requirements
Must be a legal US resident
Should be at the age of majority in the respective states or territory
Have a valid government-issued photo ID
Have a valid government-issued tax identification number such as an SSN or SIN
Have a street, rural route or APO/FPO mailing address (No PO Box)
Steps for Online Application Of VS Credit Card
For the Victoria's Secret Credit Card online application, you can use online method. It is fast, convenient and safe as well. The site is protected by the latest encryption technologies that prevent third parties to access your personal data and safeguard you.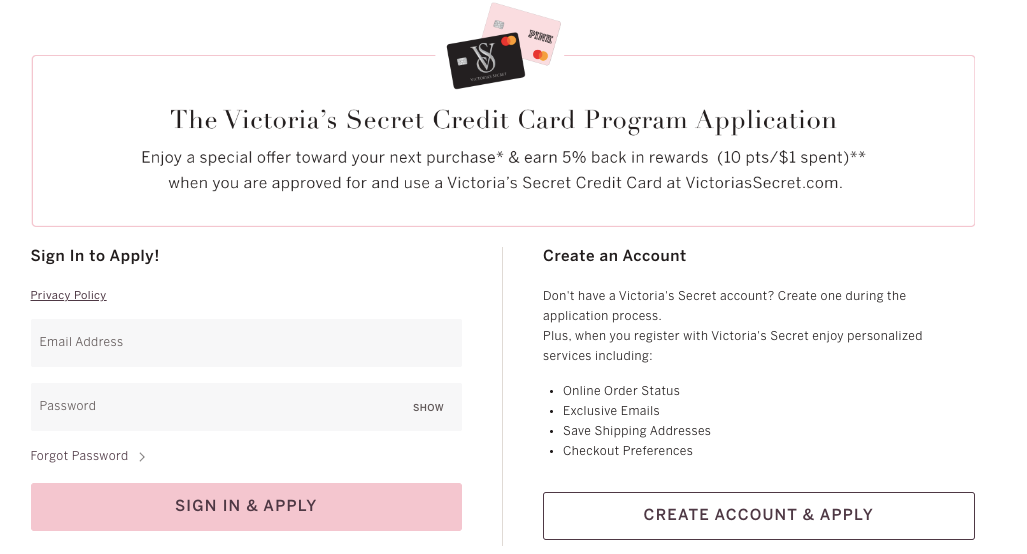 Read the important information and terms carefully about opening a Victoria's Secret Angel Credit Card Account before beginning the application process. Choose your card design between VS Angel Card and PINK Credit Card.
Provide some of your personal, contact, residential, financial details to verify your identity and obtain your credit bureau report.
Next provide the below details.
Personal Information
First Name
Middle Initial (Optional)
Last Name
Suffix (Optional)
Social Security Number
Date of Birth
Annual Income
    Contact Information
Zip Code
Street Address
Suite or Apartment (Optional)
City
State
Email Address
Mobile Phone Number
Alternate Phone Number
You may add an authorized buyer by selecting "Yes" and entering his or her name, DOB and relation with you. Once the account is open, you can add up to total 4 authorized users to your account. As a primary cardholder, you will be responsible for payments on all purchases made on your account.
As you complete and submit the application you will get an immediate response on the status of your Victoria Secret Credit Card application. It may take some time also.
Benefits of Online Account Access
If you are approved and received your card in the mail, you should register for Account Center for 24/7 online access to your Victoria Secret Credit Card Login Account. Using the service, you can use the following management tools and get more control over your Angel Card.
Make payments online
Manage payment and account setting
View scheduled and past payments
Sign up for paperless billing
See current and past statement
Request for credit limit increase
Check current balance and view available credit amount
View current and past transaction
Add authorized buyers
Update your profile and saved personal information
Access Secure Massage Center to send your inquiries and more
Activate Your Victoria's Secret Credit Card Online
You need to activate your VS Credit card after receiving it by mail. After activation, you can use your card online and in stores. You can activate your Victoria's Secret Credit Card or Victoria's Secret Mastercard by following simple steps.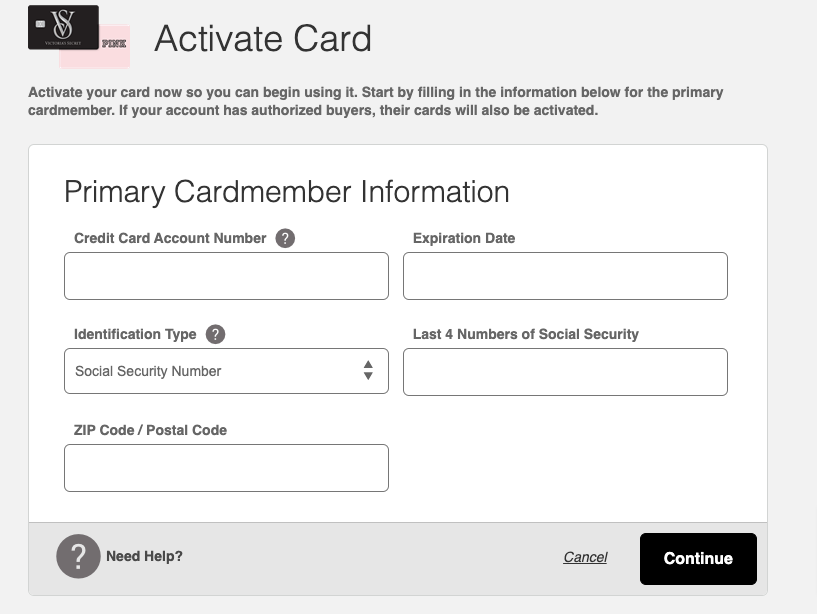 How to Register for VS Credit Card Online Access
In order to gain access to your VS Credit Card Account anytime anywhere over the web, you need to complete the registration process and create your online account by the steps described below.
Visit www.TheVictoriaCreditCardProgram.com or www.thePINKCreditCardProgram.com Click the "Register Now" from the top or "Need online access?

Register Now

" under the Sign In tab.
Enter your Credit Card Account Number and ZIP or Postal Code in their respective fields.
Select the form of identification used to apply for the account
Enter the last 4 digits of your SSN or SIN or Alternate Identification number whichever is applied
Click the "Find My Account".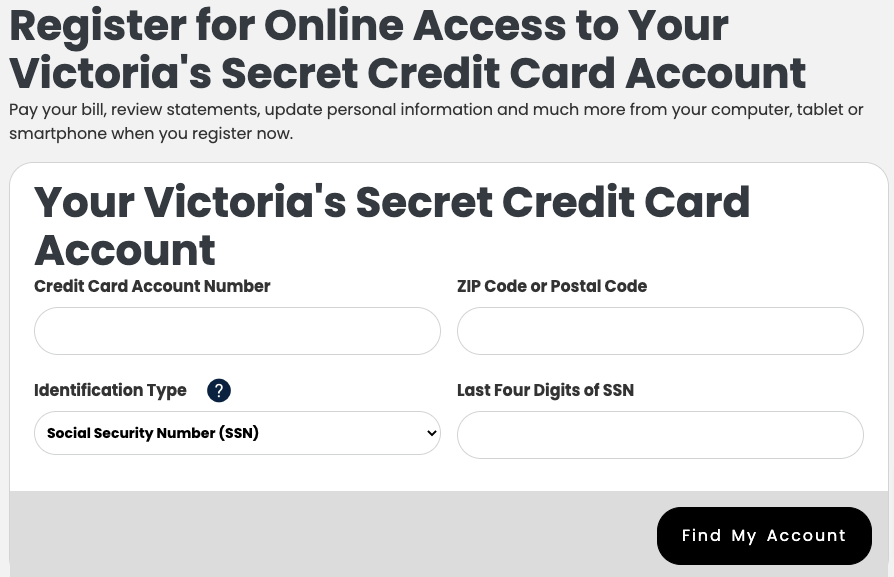 Now create the username and password. Provide email address and mobile phone and click the "Create Account" button to set up your VS Credit Card Online Account.
Victoria's Secret Angel Credit Card Login Guide
Once you are registered for online access, you can sign in and access your VS Angel Card online account anytime as you want. To log in-
Go to Victoria's Secret Credit Card Account Center at c.comenity.net/victoriassecret
Enter your User Name and Password in the specific blank spaces on the Sign-In section at the right-hand side on your screen.
Check the "Remember Me" box if you plan to use the device frequently.
Click the "Sign In" button.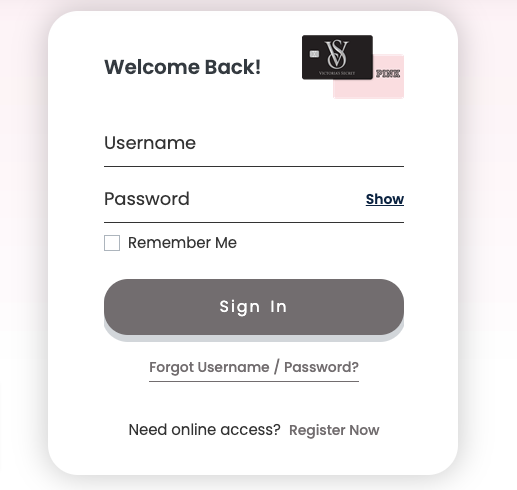 If it is your first-time login with a new or unrecognized device, a security code will be sent to your mobile phone or email address associated with the account for security purpose.
Through the "Remember Me" option you can skip the steps from next time. You are allowed to utilize the feature up to 10 devices. It is recommended to check it only on your personal device, not a public one.
While logging in, be careful as multiple unsuccessful attempts to sign in to your account may lead to suspending your online access temporarily. You will receive email instructions if you are locked out of your account.
How to reset Victoria's Secret Credit Card Login Details?
The Victoria's Secret Angel Credit Cardmembers, who have forgotten their login credentials, can retrieve their User Name and reset the password
Your VS Credit Card Account Number
ZIP Code or Postal Code
Identification Type
Last 4 Numbers of your SSN/SIN or Alternate Identification
Now click on the find my account button to recover your details.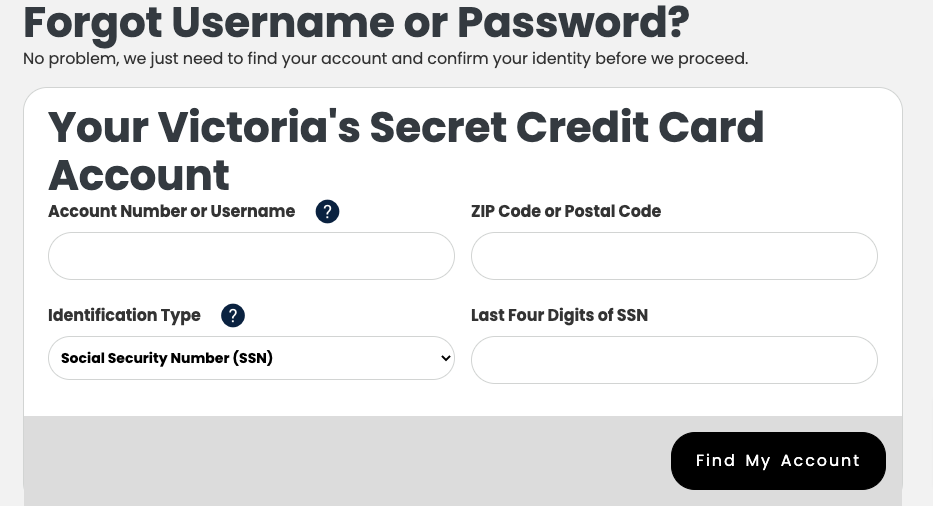 You may Also Like:
Victoria Secret Credit Card Payment
You can pay your VS credit card bill by online, by Phone, by Mobile app, By EasyPay  etc.
Pay Victoria's Secret Credit Card Bill Online
For convenience, you can make online payments any time of the day and any day of the year even weekends or holidays without any additional charge. To pay the bills, simply login to your account over the net, navigate to the payment section and provide the required details to make a one-time payment or set up Auto Pay. Some useful info about online payment-
When you are going to pay online, have your checking account number and bank routing number handy. If you don't know the details, ask your bank or you can look for on the bottom of a check or your monthly bank statement.
You can schedule the date you want the payment withdrawn from your bank account. The financial transfer may take up to two business days to complete.
To avoid a late fee, you need to pay at least the minimum amount before 8 pm EST on the due date or earlier.
If you returned merchandise yet have a credit card balance, you must pay the minimum payment due.
If your account is in good standing, you may change your payment due day.
Victoria's Secret Credit Card Bill Payment by Phone
To pay your card bill call 1-800-695-9478 for the Victoria or PINK Credit Card or call 1-844-271-2596 for the Victoria or PINK Mastercard Credit Card or TDD/TTY (800) 695-1788 Monday – Saturday, 8:00 am to 9:00 pm EST.
VS Credit Card Bill Pay By EasyPay
Pay your credit card bill by EasyPay without any online account.To initiate your Vs credit card bill by EasyPay visit www.c.comenity.net/victoriassecret and click the 'EasyPay' option from the top menu. On the next page enter your details and click ' Find My Account' Button to process your bill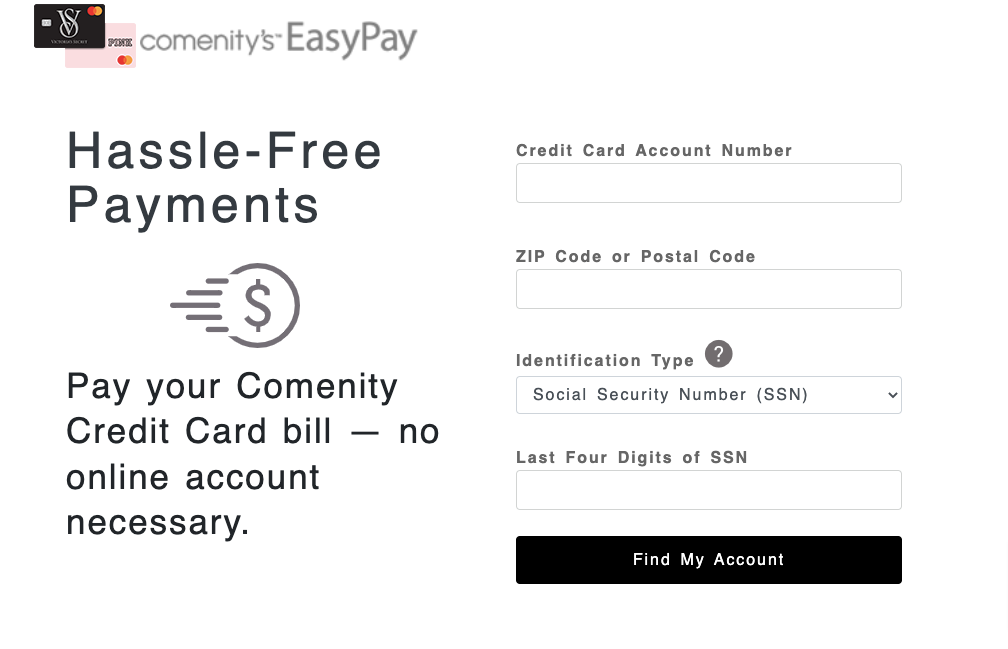 Contact Information
For further queries, contact Customer Care in the following ways:
Phone Number: 1-800-695-9478 (Monday-Saturday 8 am to 9 pm ET)
Automated customer care is available 24/7/365. Live customer care hours may vary on holidays)
Mailing Address:
Comenity Bank
PO Box 182273
Columbus, OH 43218-2273
Useful Links:
www.c.comenity.net/victoriassecret
www.victoriassecret.com/credit-card
www.TheVictoriaCreditCardProgram.com
www.ThePINKCreditCardProgram.com.