prepaid.bankofamerica.com/EddCard -Bank of America EDD Debit Card Login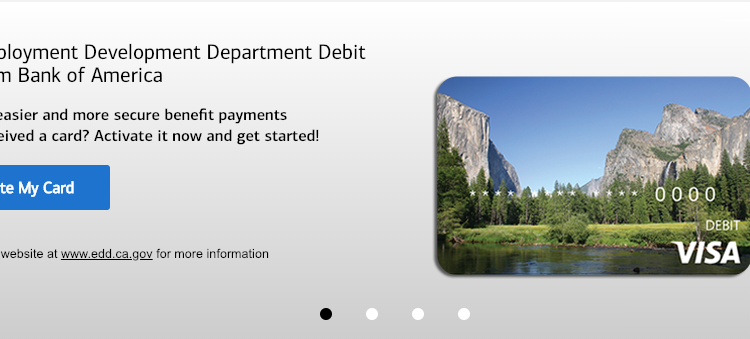 Bank of America EDD Debit Card Online Access
The Bank of America EDD Debit Card members, who have received their new cards in the mail, can activate it online and sign in for an online account for easier, faster and more secure benefit payments. The card allows the users to access their benefit payment funds out of their EDD Debit Card account.
EDD Debit Card
The EDD (Employment Development Department) Debit Card is a convenient way to receive California Unemployment Insurance, Disability Insurance, and Paid Family Leave benefit payments. The card is personalized in the benefit payment recipient's name and the name will appear on the EDD Debit Card.
The debit card is provided by the EDD with Bank of America and valid for 3 years from the date it has been issued. A Visa EDD Debit Card is automatically mailed to the claimants who are determined eligible for benefits and the benefit payments will be deposited to their card account.  Direct deposit transfers to a checking or savings account are also available plus cash access through tellers at any Visa bank or credit union. The card is not associated with a credit line. Hence, it will not show up on your credit report and affect your credit score.
Benefits of EDD Debit Card
No more waiting for checks in the mail as you will get instant access to your benefits with EDD Debit Card.
Use in stores, online, by phone everywhere Visa Debit Card is accepted
Get cash back with a purchase at many grocery and convenience stores
Access cash at ATMs, a point of sale terminals and at any bank or credit union that accepts Visa
Transfer money to your personal deposit account
No check cashing fees
Make purchases; pay the bills and more
Rates and Fees
Accessing your money through EDD Debit Card can be completely free if you use your card carefully and wisely. Most of the merchants do not charge a fee and even offers cash back when you make a purchase. Here is a list of no fees for the following:
Avoidable Fees
Cash back with purchases at grocery stores, drug stores, and US post office locations
ATM withdrawals at the domestic network that refers to Bank of America ATMs
Two free ATM withdrawals for each deposit at non-BOA ATMs
Unlimited direct deposit transfers to a checking or savings account
Unlimited teller cash access at any bank or credit union that accepts Visa
No limit for balance inquiries at BOA ATMs and Online Customer Service
Applicable Fees
ATM owners may impose an additional "convenience fee" or "surcharge fee" for certain transaction and there are fees to provide some certain services such as:
ATM withdrawals fees (all the ATMs outside Bank of America) – $1
International ATM withdrawals- $1
Emergency Cash Transfer, domestic- $15
International Transaction – 2%
Replacement Card (express delivery and international) – $10
To Activate your EDD Debit Card Online
If you have just received your Employment Development Department or EDD Debit Card in the mail, you should activate it as soon as possible. The activation is required to start using the card and enjoy all the benefits.
In order to activate an EDD Debit Card Online, you can follow the brief guide provided below:
Visit Bank of America EDD Debit Card Official website at www.bankofamerica.com/eddcard
Click the "Activate My Card" from the top of the page and you will be directed to the activation page
Enter your EDD Debit Card in the field on the page
Click the "Continue" button to proceed
Select your Personal Identification Number (PIN) and follow the on-screen instruction properly to activate your card.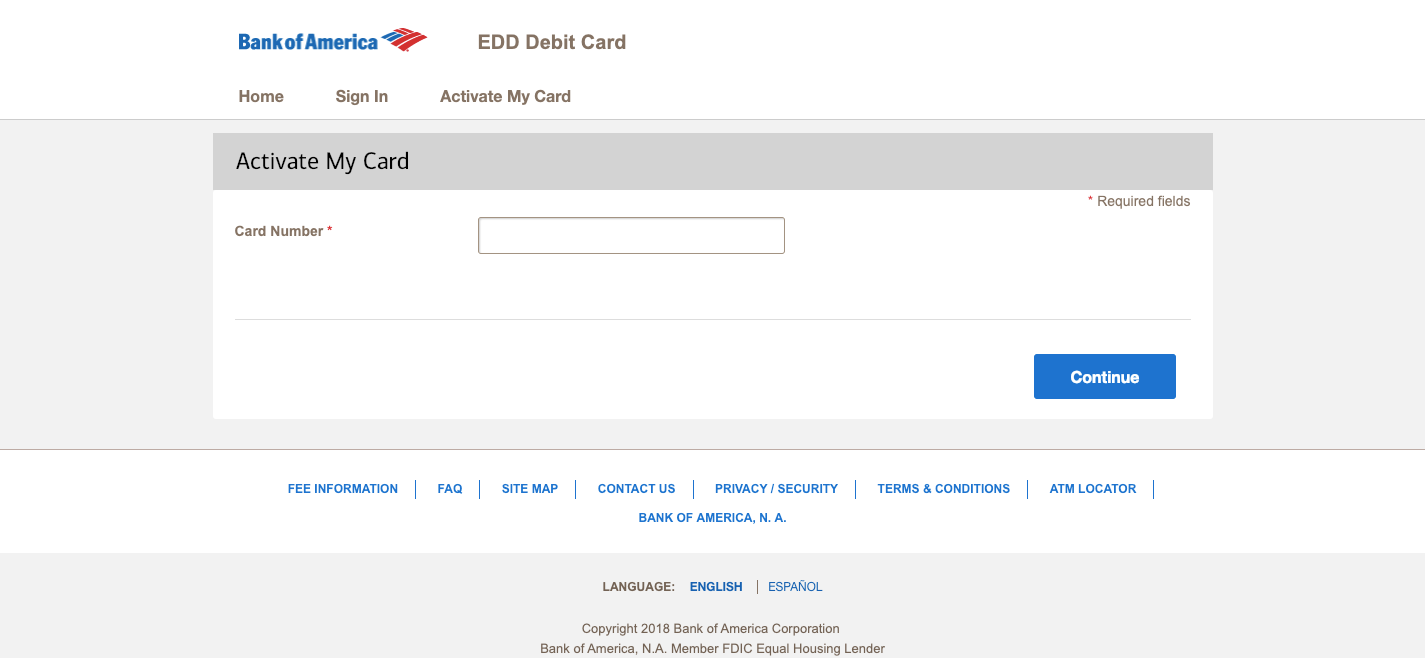 To Make a Purchase with Visa EDD Debit Card
Once the card is activated, you can start to use it and access to your funds on it 24 hours a day 7 days a week everywhere Visa debit cards are accepted. You can make purchases either with a signature or a PIN.
To buy things, you need to swipe or present your EDD Debit Card and choose 'credit' option. Then sign, take your card and receipt.
For purchasing using your PIN, swipe your card; choose 'debit' and enter your PIN. Select the amount if you want to cash and it will be added to your purchase. Now, take your card, cash, and receipt.
Sign into your Bank of America EDD Debit Card Account Online
In order to manage your card more conveniently and keep track of your account transaction activity, you can sign into your Bank of America EDD Debit Card Online Account. The online service is available 24/7 and using it, you can perform a lot of activities like
Check account balance
View transaction history
Check date and amount of last deposit
Access direct deposit fund transfer
Change the PIN
Dispute form or affidavit
Active alerts that you would like to receive and stay informed
ATM locator and much more
To get all this convenience, you have just to sign in EDD Debit Card Account online by visiting Bank of America EDD Debit Card Homepage. Here is a short guide provided for you to log in.
Go to www.bankofamerica.com/eddcard
Navigate to the top right-hand side of the page and enter the username of your EDD Debit Card Online account in the specified field
Check the "Remember Username" box to store the info on the device you are using currently.
Click the "Sign In" button to move forward.
Provide the password to access your EDD Debit Card Account online.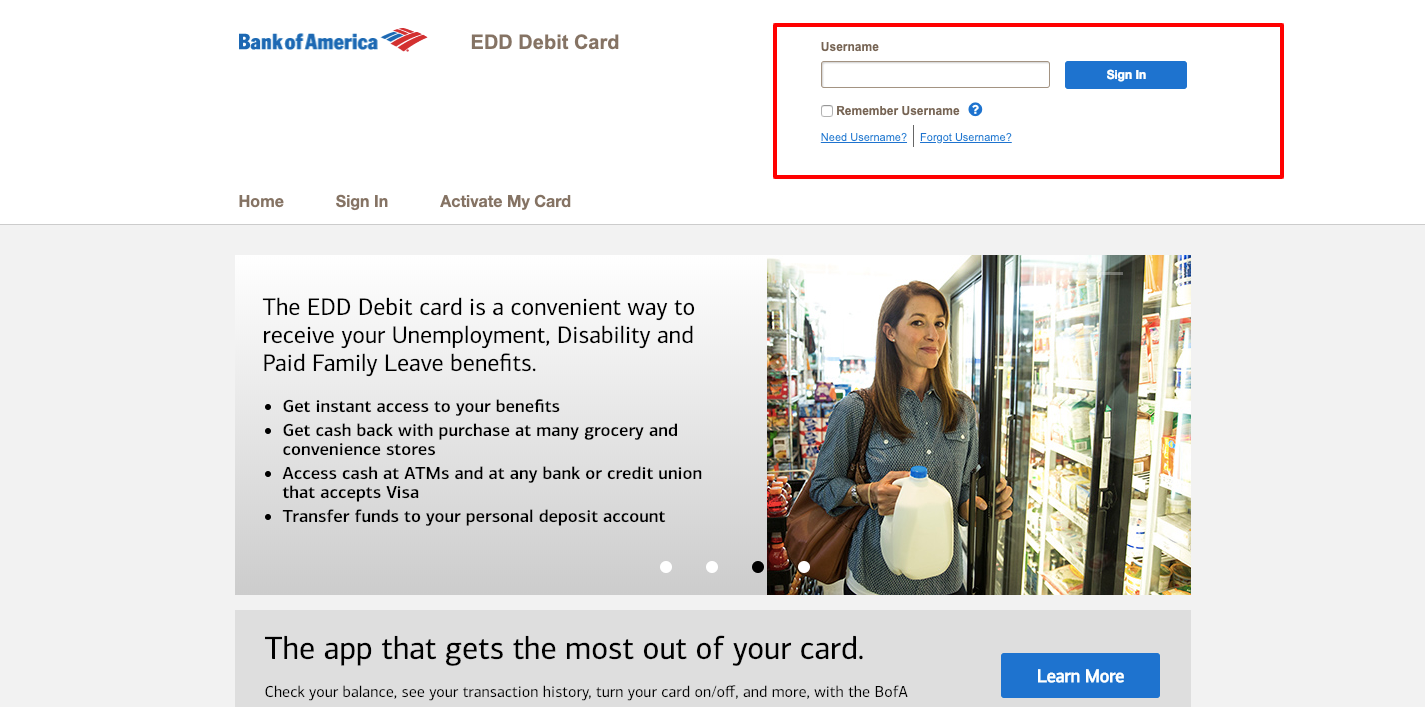 If you are using the online account of your EDD Debit Card first time, you will be required a username to sign in. For that, click the "Need Username?" link under the 'Remember Username' feature and enter your EDD Debit Card number.
Forgot Username
The EDD Debit Cardholders, who cannot remember their Online Account Username, can retrieve it and regain access of their card account. To retrieve the username, you need to click the "Forgot Username" link next to the 'Need Username' option and submit your email address to receive the username associated to your EDD Debit Card Online Account.
Bank of America Prepaid Mobile App
You can access your EDD Debit Card account in your smartphone through BOA Prepaid Mobile App that can be downloaded from App Store and Google Play. The app offers more control through its features that include
View your most up to date balance anytime anywhere
Easy biometric login with fingerprint or facial recognition
Set convenient alerts of your payment arrival and low balance
Turn your EDD Debit Card off if you misplace it and turn it back on when you find the card.
Quickly view all of your most recent transactions
Find nearby ATM locations
The Username and Password used on the App are not connected to the user login credentials that are used on the EDD Debit Card Online Account of the prepaid website. You may set up as the same username and password but it is not required.
Bank of America Debit Card Customer Service
If you have any question regarding your card, you can communicate with Bank of America EDD Debit Card Cardholder Services by telephone.
Phone Number: 1-866-692-9374, 1-866-656-5913 (TTY), 1-423-262-1650 (outside the US)
Or, you can write to
Bank of America EDD Debit Card Cardholder Services
P.O. Box 8488
Gray, TN 37615-8488
Email Address: govandcorp@prepaidcard.bankofamerica.com
Useful Links:
https://prepaid.bankofamerica.com/eddcard