Activate Your Green Dot Credit Card at platinum.greendot.com
How to Activate the Green Dot Credit Card :
The Green Dot Platinum Visa Secured Credit Card is designed primarily for individuals who are looking to build or rebuild their credit score. Just like a traditional credit card, you can avail a Credit Limit and also can make Monthly Payments. The huge difference is that you have to make a refundable security deposit that generally acts as collateral in any circumstances if you default on payments that are starting as low as $200.
The Credit Limit range is determined by your ability to make the minimum payment, & your Security Deposit helps to set the limit within that range. Your Credit Line will always be equal to the amount of this Security Deposit.
With responsible utilization of your Platinum Visa Secured Credit Card, you can always build up your Credit Score over time. The responsible utilization includes keeping your balance low, making on-time minimum payments, & paying off your credit card each month.
The Benefits & Advantages of Green Dot Platinum Visa Secured Credit Card
Credit Check is not required, to apply for the card.
No Activation fee is charged for the card.
You are approved for only to a Credit Limit that is linked to your Security Deposit.
You can avail more Convenient Payment Options.
The Green Dot Credit Card helps in Credit Score building.
The Card primarily reports monthly to all 3 major Credit Bureaus of the country.
The Interest Rate for the Card is 19.99% along with a fixed Annual Percentage Rate (APR).
The Security Deposit is a minimum of $200 to $5,000 maximum.
Payments can be made In-Person, with a Payment Fee of $4.95 each time.
Green Dot Bank always supports the Military Service Customers by making sure that the Service Members are always aware of the Federal Service Members Civil Relief Act (SCRA), & the benefits and protections on the Green Dot Platinum Visa Secured Credit Card.
The Green Dot Platinum Visa Secured Credit Card has worldwide acceptance.
Rates & Interests
Security Deposit – $200 (Minimum) to $5000 (Maximum)
Annual Fee – $39
Interest Rate – 19.99% fixed APR
Payment due Date – Your payment is due 25 days from the close of the billing cycle
Minimum Payment Due – Either 2% or $25 of the balance which one is greater
Late Payment Fee – Up to $27
Over Limit Fee – None
Foreign Transaction Fee – 3% of the foreign transaction amount
Cash Advance Fee – Either 5% or $5 of the Cash Advance whichever is greater
Returned Check Fee – Up to $27
How to Activate the Green Dot Platinum Visa Secured Credit Card:
To Activate the Green Dot Platinum Visa Secured Credit Card, follow the below-given steps:
Activation Through Online
Visit the main official website of Green Dot Platinum Card.
You can also click on the link provided platinum.greendot.com.
On the landing page of the website, you will find the "Card Activation" link on the right corner of the page above.

Now, on the next Card Activation Page, enter your Account Number, First Name, Middle Initial, Last Name, Social Security Number (Last 4-Digit), Expiration Date, CVC /CVV Number, Date of Birth (DOB), State (Select), Zip, etc.
After putting all the data carefully, tap on the "ACTIVATE CARD" option below & follow the screen prompt.
Activation Through Phone
Alternatively, you can activate your Green Dot Platinum Card through your phone. You are just required to call Green Dot Platinum Visa Secured Credit Card Customer Care Service at 1 -866 -291 -0818 & 1 – (866) -795 -7597 to get help for activation.
Now you have to provide your Personal Details such as your Full Name, Residential Address, and your Date of Birth (DOB) for the verification process. Then, you have to provide the Green Dot Platinum Credit Card Number & Code to complete your activation process.
Green Dot Platinum Credit Card Login Guide
To Log In for the Green Dot Platinum Visa Secured Credit Card, go through the given steps:
First, visit the authoritative site of the Green Dot Platinum Card at platinum.greendot.com
On the homepage of the website, put down your "User Name", and "Password" on the given field.
Now, by tapping on the "LOG IN" button below, you can have access.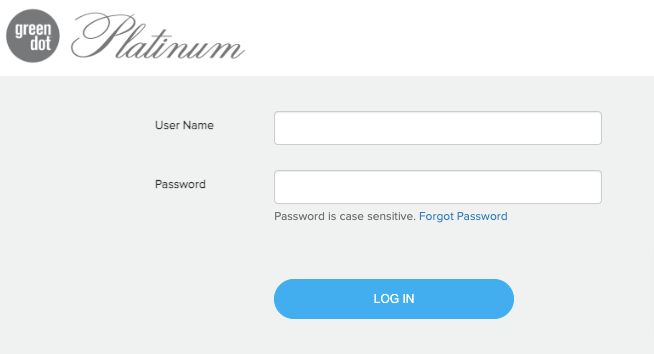 How to make Payments or Deposits on your Green Dot Platinum Credit Card
Through Online: Just Log In to your account online or using the mobile application, here you can easily access your monthly bills & can enroll to receive paperless statements.
Through In-Person: Visiting In-Person makes your deposits & payments at numerous retailers like CVS, Rite Aid, Walmart, 7-Eleven, & Walgreens, etc. But please remember that every time you use this facility you have to pay a fee of $4.95.
Through Mail: You also can send a check or deposit slip to the address already printed on the Deposit Slip.
Contact Details:
Mail for (Any Enquiry, Mail the Check & Deposit Slip to):
Green Dot Bank
P.O. Box – 400
Provo, UT 84603 -0400
To Qualify for Green Dot Platinum (Mail to):
Green Dot Platinum
P.O. Box – 9206
Old Bethpage, NY 11804
Phone Numbers:
Green Dot Platinum Visa Credit Card Customer Care Support (Call): 1 -866 -291 -0818
Report Lost & Stolen Card (Call): 1 -866 -291 -0818
Green Dot Bank Customer Care Service (Call): 1 – (866) -795 -7597
Consumer Financial Protection Bureau (CFPB) (Call): 1 -855 -411 -2372
Reference Links:
Green Dot Bank: www.greendot.com
Green Dot Platinum Visa Credit Card: platinum.greendot.com
To Make Payment Using a Debit Card: www.greendotcredit.com