www.preapprovedaccess.com – First Access Visa Credit Card Pre-approval Guide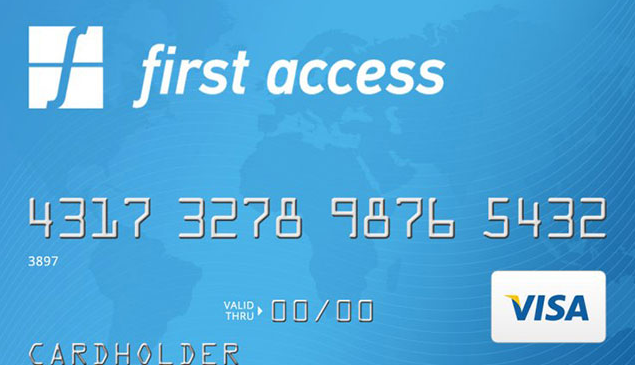 If you have decided to apply for a new First Access Visa Credit Card, you can take the First Access Visa Credit Card preapproval or prequalification process online. For that, you need to receive an invitation letter via the US mail offering you to take the pre-approval process for the First Access Visa Credit Card.
This offer is given to the consumers only to maximize their chance of being approved for the new card before submitting a full application. But it is not a guarantee of approval or rejection for the card. You also have to meet other qualifications and go through a further review to get a First Access card.
To apply for the First Access Pre-Approval online
The eligible Customers who received the offer letter can complete the Pre-Approval process online. It is the fastest and easiest way for the preapproval of a First Access Visa Credit Card.
Visit the https://www.preapprovedaccess.com
Enter the 8 character Reservation Code located on the bottom of your invitation letter.
Click on "Continue" to get started.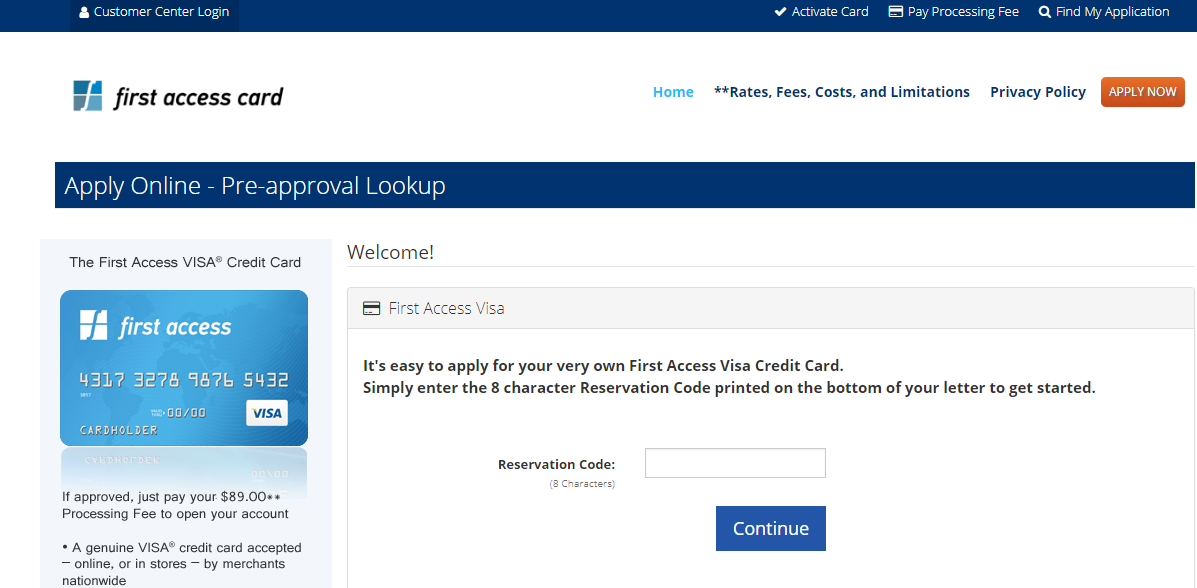 After that, you will be redirected to the next page of the application process. There you need to enter the following information to provide.
First Name
Middle Initial
Last Name
Street Address
City
State
Zip
If your home is your own, rent or other
Select the years and months you have lived at your current residence
Home phone
Cell phone
Email address
Agree to their terms and accept. (If you decline you will be returned to the home page)
Consent to the First Access Marketing Agreement.
Social Security Number
Date of Birth
Security Passphrase (generally your mother's maiden name)
Click "Continue" to enter the next part and complete the rest of the application process.
Upon completion, you will receive an instant response to your credit acceptance and denial.
To apply by mail
If you don't want to go through the online process, you can complete the paper application attached to your mailer and mail it back on the return address printed on the letter. But the paper application takes more time than online and you need to wait up to 7 days to receive a decision on the acceptance of your application.
First Access Visa Credit Card Notes
All the applicants must be legal residents of the USA and over the age of 18.
The Reservation number identifies you as a prescreened applicant based on the information of your credit report indicating that you meet certain criteria for the First Access Visa Credit Card.
The offer is ideal for the customers with poor credit score and trying to rebuild or repair their credit.
The approved customers need to pay $89 as a processing fee to open their account.
As the card comes with the Visa logo it is accepted online, in stores by merchant nationwide.
The First Access Visa Credit Card is issued by 'The bank of Missouri'.